Maggi Catena
The Maggi Group including Maggi Catene (Catena is Italian for chain) are an Italian chain manufacturer founded in1925.
There are many companies in the marine industry that claim to be manufacturers but are actually importers/agents for manufacturers of far eastern origin.
Maggi Catena are proper chain manufacturers.
We have visited the factory in Olginate, Italy and witnessed the production and the galvanising process for ourselves.
Corrado Maggi and his administration team made us very welcome and left no stone unturned in proudly showing off all their plant and machinery for both the chain production and the galvanising process.
Olginate is located south of Lecco on the shores of a very small lake, Lago di Garlate which in turn is at the very south western end end of the much better known Lake Como, Lago di Como.
Maggi Catena also manufacture Genoese chain for mooring solutions and snow chains for vehicles as a demonstration of their wider skills but their main drive is Calibrated Anchor Chain for yachting worldwide.
Corrado Maggi is the driving force at the head of the Maggi Group and he is at the forefront of chain technology in terms of manufacture, heat treatment and the galvanisation process. He has developed the range of chain that they produce:
AQUA4 = Grade 40 Calibrated Anchor Chain, the industry standard which surpasses Grade 30 and delivers 25% more break load size for size
AQUA7 = Grade 70 Calibrated Anchor Chain – Maggi have successfully developed a specially designed and engineered heat treatment for Garde 40 chain which results in a huge increase in the break load to 70kg per mm2, Grade 70.
AQUA7 provides two major benefits:


Yachts that are bordering on requiring a larger size chain for their main anchor rode, but would rather keep their 8mm or 10mm existing windlass and gypsy, can upgrade to the higher Grade 70 break load without changing chain size or calibration.


Yacht owners can aspire to a much longer length of chain available in the bow without suffering the extra weight by reducing the chain diameter by one size: e.g. 60 metres of 10mm Grade 40 chain could be changed to 100 metres of 8mm Grade 70


US Specification Grade 40 and Grade 70 Anchor Chain = Maggi produce 5/16" and 3/8" chain to US calibration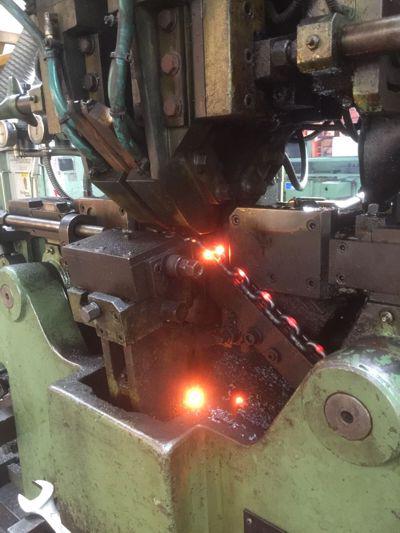 List of products by manufacturer Maggi Catena