Dyneema Rope - Cruising and Racing Comparison
Jimmy Green Marine offer a range of running rigging lines with a combination construction: Polyester cover combined with a Dyneema core.
These split naturally into three different groups:
Cruising Performance  ~  Racing Performance  ~  Extreme Performance
Dyneema (High Modulus Polyethylene) Facts and Features:
Dyneema is significantly more expensive than polyester.
Dyneema is denoted and rated by an SK number: SK76, 78, 99
The higher the number, the higher the specification and the more it costs
Cruising Dyneema offers a performance edge over 100% polyester without incurring the full cost of Racing Specification Dyneema.
Dyneema SK75 and SK78 are commonly used in 'Cruising' - SK78 in 'Racing' and 'Extreme' - SK99 in Extreme
LIROS have designed a cost-effective Cruising Performance solution by reducing the amount of Dyneema SK78 in the core compared with High-Performance Racer
The Marlow Cruising Performance version involves blending an SK75 Dyneema with Polypropylene to make it less expensive.
These both come at the expense of outright performance, but representing a significant upgrade from 100% polyester.
A reduced diameter Dyneema SK78 core
A sacrificial polyester intermediate layer
A hard-wearing polyester outer Jacket
The reduced Dyneema core provides a moderate increase in breaking strain and a considerable reduction in stretch when compared with a rope of 100% polyester construction.
All three of these lines feature:
A full racing specification Dyneema SK78 core
A full hard wearing polyester outer Jacket
The full Dyneema core provides a significant increase in breaking strain and a considerable reduction in stretch when compared with a rope of 100% polyester construction. LIROS Racer Dyneema and Marlow D2 Racing are constructed differently. LIROS Racer Dyneema has a very thin sacrificial mid layer, Marlow D2 Racing does not.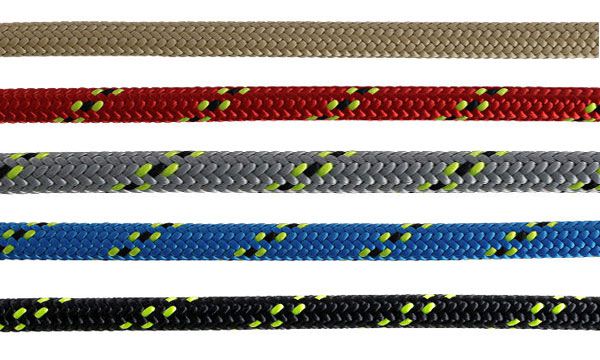 Extreme performance Dyneema: LIROS Control XTR and any lines from the Marlow MGP range that feature a higher specification core than Dyneema SK78
LIROS Control XTR has a Dyneema SK99 core.
Other high specification cores include super pre-stretched SK78 Max, SK90 and Vectran.
All extreme performance lines feature:
a full Extreme Performance Dyneema Core. E.g. Dyneema SK78 Max, SK90 or SK99
No sacrificial mid layer
A full hard wearing polyester outer jacket with a Technora or similar high grip hard wearing blended additional fibre  
Extreme Performance Dyneema delivers even greater break load, less stretch and tougher wear resistance than High Performance Dyneema.
| 12mm Diameter | Approximate Stretch | Manufacturer Minimum Break Load | JGM Retail Price per metre, January 2021 |
| --- | --- | --- | --- |
| LIROS Polyester Braid on Braid EVO | < 5% | 3700kg | £3.35 |
| LIROS Dynamic Plus | < 2% | 4800kg | £9.40 |
| LIROS Racer Dyneema | < 1.5% | 7200kg | £11.65 |
| LIROS Regatta 2000 | < 1.5% | 7200kg | £11.90 |
| Marlow D2 Racing 78 | c 1.5% | 6250kg | £12.15 |
| LIROS Control XTR | <1% | 11200kg | £23.70 |
Please Note
To complete a successful core dependent splice, the outer cover needs to accommodate a double thickness of the Dyneema core.
Therefore, when splicing LIROS Dynamic Plus and LIROS Racer, the sacrificial mid layer is cut away approximately 2.5 metres from the end in order to make room for the double thickness Dyneema.
The removal of this mid layer results in a reduction in the finished rope diameter over the last 2 metres of the line.
This reduction is more pronounced on both Marlow and LIROS Cruising Dyneema.
Although there are subtle differences in their construction, both Marlow and LIROS have designed their dyneema core ropes to be spliced by the same method.
Both LIROS and Marlow recommend the core dependent splice for their dyneema core ropes.