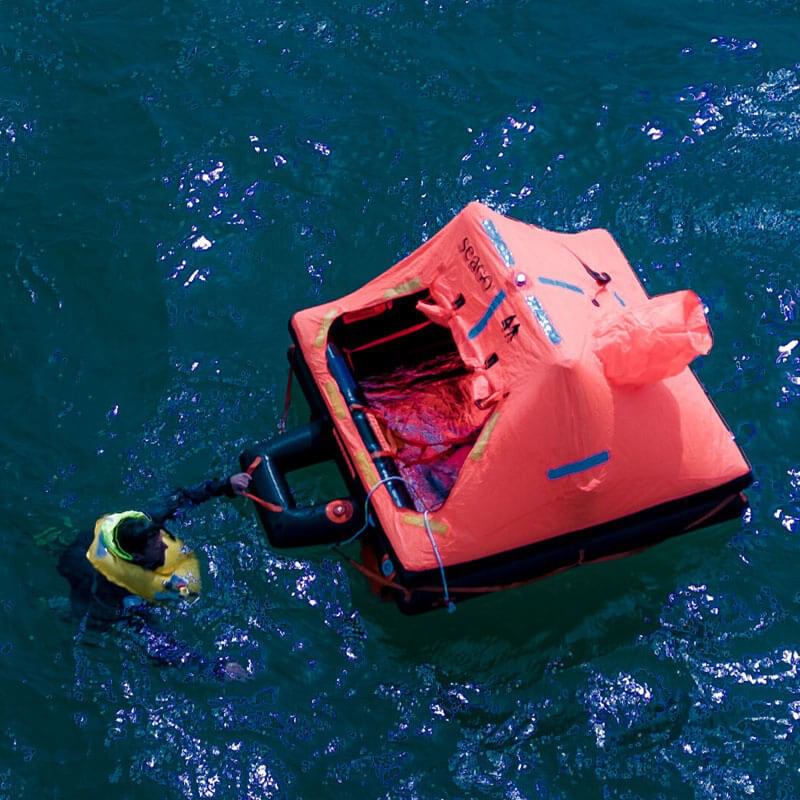 More Information
Accessories
Downloads
The Seago Sea Master ISO 9650-1 Type 1
 

complies with the latest ISO 2022 standard.

5 good reasons to choose a Seago Liferaft: 1. ISO Approval 2. 18 year warranty 3. Fixed Price Servicing 4. Discount Servicing Scheme 5. Parachute Flares :-
All Seago Liferafts are manufactured in accordance with ISO 9650 regulations - the all encompassing standard for leisure yachts which covers ISAF and RORC requirements.
Seago Sea Cruiser = ISO 9650-1 Type 2
Seago Sea Master  = ISO 9650-1 Type 1
All Seago liferafts now come with an 18 year extended manufacturer warranty - subject to registering the raft and adhering to the Seago servicing schedule.
Seago have fixed their service prices so that you know your obligations in advance.
Seago also offer a discount scheme on your first 3 services = at 3, 6 and 9 years
Seago liferafts contain 2 red parachute flares as standard where most other rafts only contain hand held flares
Seago Sea Master - the perfect partner for offshore sailing on recreational or coded craft, designed and refined over many years in partnership with professionals.
This is a Seago Flagship Product
Seago Sea Master ISO Liferaft - designed for extended offshore cruising and racing - built and tested to the comprehensive ISO 9650-1 standard.
ISO sets the bar high by requiring an exacting specification covering construction and performance, including inflation, launching, material resistance, buoyancy and interior space.
Seago Sea Master liferafts are equipped with an ISO 9650-1 pack and can be supplied in either a durable valise or fibreglass canister.
Available in 4, 6 and 8 man sizes.
Suitable for recreational coded and non-coded coastal and offshore sailing as well as coastal fishing.
Once purchased and registered, the liferaft has an 18 year extended manufacturer warranty and needs to be serviced at 3 year intervals.
International delivery is available.
Colour: High visibility orange canopy and ballast pockets with black lower tubes
Sizes: 4, 6, 8, 10 and 12 person
Tubes: Super robust large butyl rubber inflatable tubes
Canopy: 100% water proof tough ripstop nylon canopy
Thermo insulated floor
Retro reflective tape: Fitted with high visibility SOLAS approved retro reflective tape on canopy and underside of raft floor
Ballast Pockets: 4 x 55 Litre lead weighted quick filling water ballast pockets for maximum stability
Lights: SOLAS Approved automatic high visibility flashing external light to enable quick recovery plus internal light
Boarding ladder: with intermediate step/platform for easier access from the water
Storage Options: Packed in robust fibreglass container or durable valise bag
Areas of Use: Offshore and Ocean Cruising, Offshore Racing, Organised Rallying, World Sailing and Coded Sailing
Service and Warranty: 3 Year service interval, 18 year warranty
Sizes and Weights:

| | Tube Dia. | Valise | Container |
| --- | --- | --- | --- |
| 4 man | 2 x 215mm | 36kg | 40kg |
| 6 man | 2 x 250mm | 42kg | 46kg |
| 8 man | 2 x 260mm | 48kg | 53kg |
| 10 man | 2 x 268mm | 54kg | 62kg |
| 12 man | 2 x 268mm | N/A | 66kg |
Liferaft Packed Dimensions

| | Valise | Canister |
| --- | --- | --- |
| 4 man | L650 x W300 x H420 | L730 x W490 x H280 |
| 6 man | L720 x W340 x H460 | L750 x W510 x H320 |
| 8 man | L720 x W340 x H460 | L780 x W510 x H320 |
| 10 man | L720 x W360 x H500 | L780 x W530 x H350 |
| 12 man | N/A | L830 x W550 x H380 |
Emergency ISO 9650-1 Type 1 pack contents:
1 x 0.5 litres water per person
2 x TPAs (thermal protection aids) per liferaft
1 x Rescue quoit with 30m of throw line
2 x sponges
1 x bailer
1 x waterproof torch and batteries
1 x signal card
3 x red hand flares
1 x floating knife
1 x drogue
1 x tube repair clamp
1 x hand pump
1 x pair of oars
1 x signal mirror
2 x parachute rockets
6 x anti-sickness tablets
1 x whistle
1 x wet notes