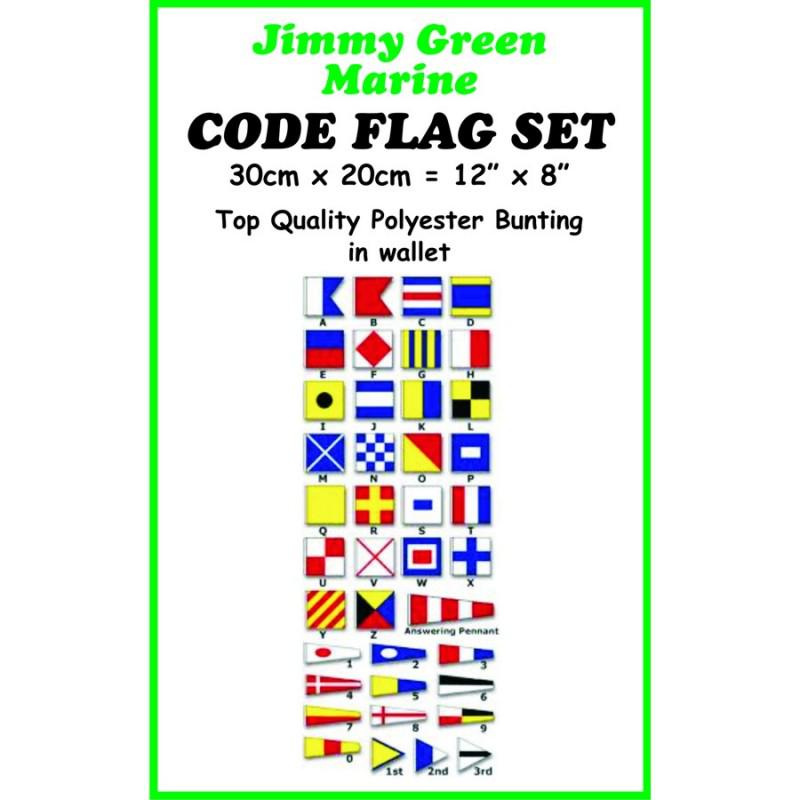 More Information
Accessories
A complete set of 40 polyester bunting code flags and numeral pennants supplied in a white polyester wallet.
Flags are either 30cm x 20cm (12" x 8") or courtesy size 45cm x 30cm (1/2 yard, 18'' x 12'').
All flag sizes are nominal
Pennants and numerals are in keeping with the flag sizes
Approximate dimensions:
30x20cm = Length 470mm x 150mm hoist tapering to 50mm
45x30cm = Length 580mm x 260mm hoist tapering to 115mm
All Jimmy Green Code Flags are screen printed in a modern factory in Europe on top quality UV resistant 100% woven polyester.
Half yard or 12" x 8" size (traditional diagonal measurement) is nominal and may vary slightly due to the nature of the production/sewing process.
Sizing on pennants and numerals is different due to the variation in outline shape - dimensions are in keeping with flag size
Screen printed on one piece of flag fabric
Top quality UV resistant 100% polyester woven bunting
Colourfast and fade resistant
Hoist reinforced with special flag webbing tape
Braided line sewn into the integral hoist tape creating a loop at the top and a distance line at the bottom
Finished with twin stitched hems (outside edges)
White Polyester wallet with snug pockets denoted with their letter/pennant/numeral
Wallet folds inward for tidy stowage