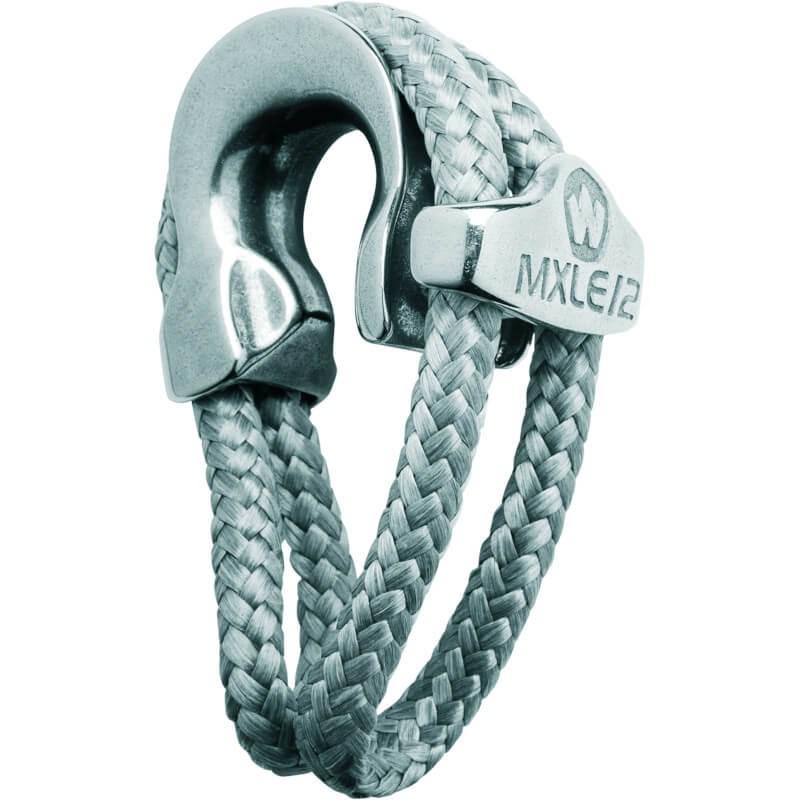 Wichard MXLEvo Soft Block
PRB-WB-21104
Duplex stainless steel / Dyneema® SK78
Reliable, maintenance free, no moving parts
Lightweight, adapatable, robust, compact
High load, comparatively static applications
Simple line insertion
Size 1 = MXLEvo 10mm Line
Size 2 = MXLEvo 12mm Line
Size 3 = MXLEvo 16mm Line
More Information
Downloads
Wichard have created a universal soft block solution with significant advantages for both cruising and racing yachts.
MLX Evo has been designed for applications where the focus is on high load with a comparatively low degree of adjustment.
e.g. mast foot turning leads, purchase and tackle systems, vang/kicker, barber haulers, mainsail outhaul, control line routing etc.
Soft Blocks can easily be added into any running rigging situation because they can be opened and closed to allow the control line line to be inserted without any need for reeving through the system.
Wichard soft blocks are very effective as substitutes for snatch blocks with only one exception: running rigging applications where the line is constantly fine-tuned under load - released and hauled back in repetitively – and/or requires friction free running e.g. spinnaker racing sheets.
They are ideal for cruising sheets and control lines, especially during extended cruising, where the sail is set for the yacht to follow a slightly more relaxed course for long periods e.g. under the guidance of self-steering.
Wichard Important Advisory
Wichard recommend that you step down one diameter when using a soft block as a snatch block:
Size 1 = MXLEvo 10 - step down to 8mm Line
Size 2 = MXLEvo 12 - step down to 10mm Line
Size 3 = MXLEvo 16 - step down to 14mm Line
MLXEvo Soft Blocks don't require any special skills or technical knowledge because they come ready to use with a spliced dyneema loop.
They are easy to position and simple to set up on any suitable strongpoint, even around awkward profiles, due to the flexibility of the dyneema line which allows excellent articulation and alignment.
Wichard MLX Evo Soft Block Features and Plus Factors:
Ready to use, simple to set up
No special skills required
Secure dyneema loop lock-in housing, even under no load

Secure and simple opening and closing for quick and easy line insertion

Exceptional performance compared with a standard block – Wichard state that they are twice as robust, half the weight and a third of the size
Compact, lightweight, but extremely rugged
Reliable and maintenance free because there are no moving parts
Excellent adaptability featuring 2 fastening positions: 1. Longer, using the full loop 2. Shorter, with the loop connected back over the specially designed hook and housing
Top quality materials – Duplex-grade stainless steel and SK78 Dyneema
World renowned Wichard design and manufacture intended to withstand the rigours of Regatta Racing or Ocean Cruising
Good value compared with comparable peformance snatch blocks
Ideal addition to a yacht's rigging spares inventory
These pictures show soft blocks in situ - pictures 1, 3 and 5 with loop wrapped back around the housing, pictures 4 and 6 employing the full loop.
| Wichard | Size | Maximum Rope | Dyneema (nominal) | Loop Length | SWL | MBL |
| --- | --- | --- | --- | --- | --- | --- |
| WB-21104 | Size 1 = MXLEvo 10 | 10mm | 4mm | 155mm | 800kg | 2000kg |
| WB-21105 | Size 2 = MXLEvo 12 | 12mm | 5mm | 215mm | 1600kg | 3800kg |
| WB-21106 | Size 3 = MXLEvo 16 | 16mm | 6mm | 255mm | 2500kg | 5000kg |
| Wichard | Size | Height | Width | Thickness | Weight |
| --- | --- | --- | --- | --- | --- |
| WB-21104 | Size 1 = MXLEvo 10 | 30mm | 40mm | 26mm | .04kg |
| WB-21105 | Size 2 = MXLEvo 12 | 40mm | 54mm | 35mm | .09kg |
| WB-21106 | Size 3 = MXLEvo 16 | 46mm | 60mm | 41mm | .14kg |