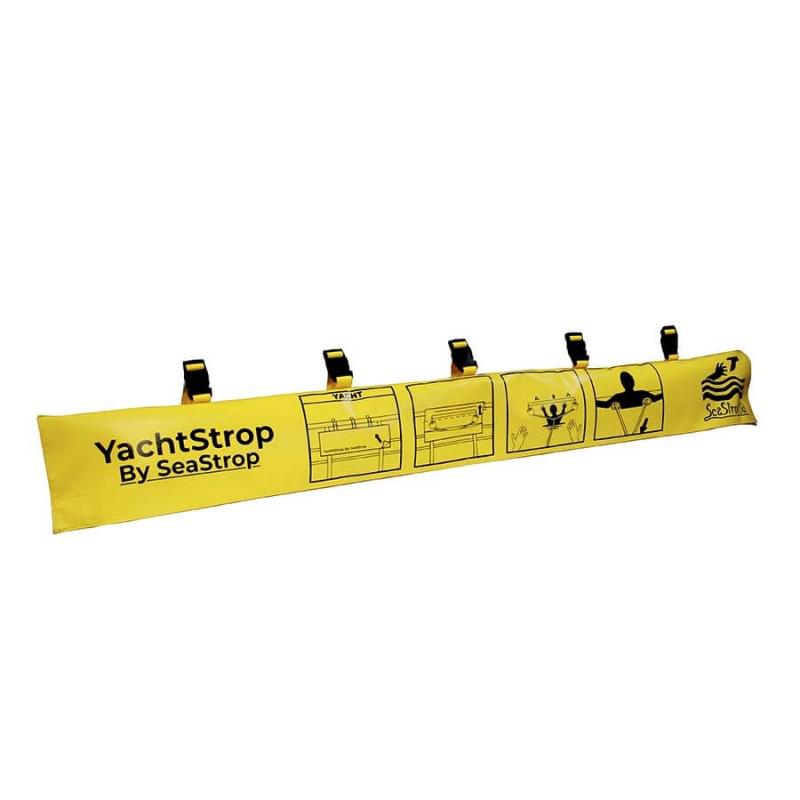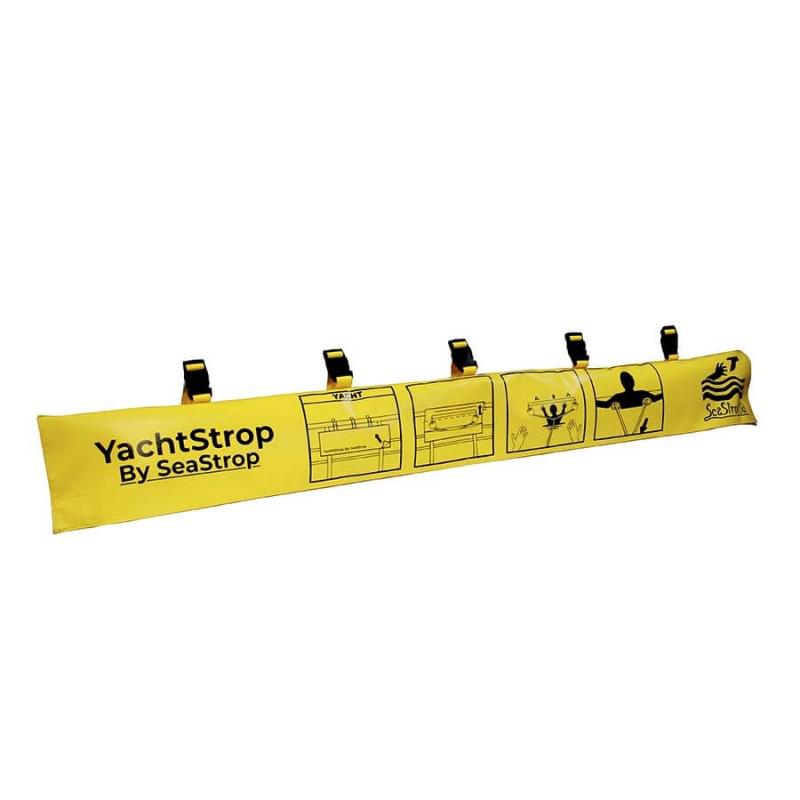 MOB rescue sling.
The SeaStrop is the only device on the market that can rescue both conscious and unconscious persons from the water without the need to risk the life of another person.
More Information
There are two variations of the SeaStrop; the BoatStrop and the YachtStrop.
The YachtStrop version is kept fastened to the guard rails
The BoatStrop can be hung or stowed in a locker
Instructions for use
Clip the SeaStrop in a suitable position for rescue by attaching the line at the bottom end to the boat.
Approach the Man Over Board and stop the boat with them in the lee and 2 -3 meters clear.
Remove the BoatStrop from the end of the valise allowing the bight of the line to go outboard of the guardrails, in the water.
Ensure that the slinging becket is close to the boat, away from the splice where the two legs of the line are attached to the strop, and not constricting the strop.
Make a small loop on the line in either hand and hold both ends of the strop.
Cast the Strop horizontally over and past the MOB. Normally an underhand throw is easiest. With very little practice the strop can be thrown accurately 5 meters. If you miss is immediately re-usable.
As soon as the centre of the strop has sunk pull on the recovery line, bending the strop around the MOB and pull them to the recovery position you have chosen.
The becket will slide down the line and help to keep it closed.
If you decide to use a high point to recover the MOB it is recommended that a block is always reeved on the line in the valise and is attached before throwing the strop.
This also allows for easier throwing.
The block needs to be large enough to accommodate the lines from both sides of the strop.
After use, inspect the strop and lines, wash in fresh water when possible and re-stow with large coils and the strop inserted last.
For more information visit www.seastrop.com.