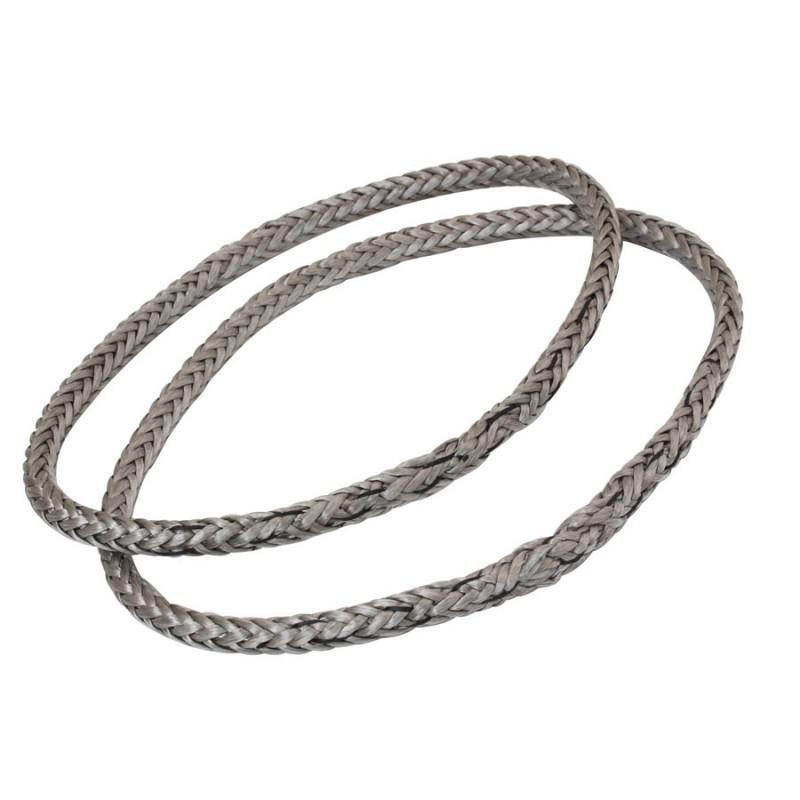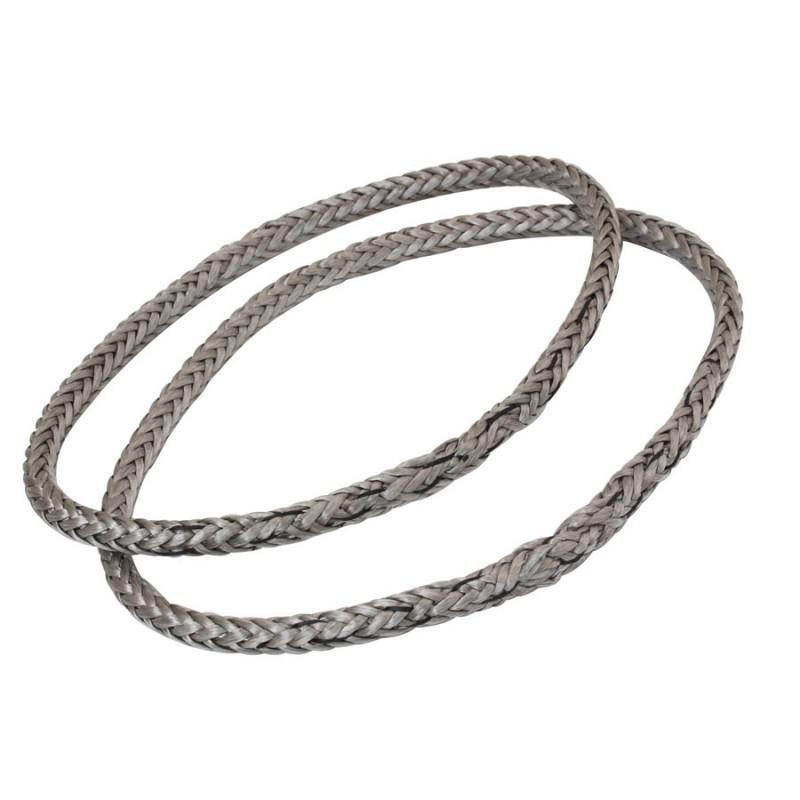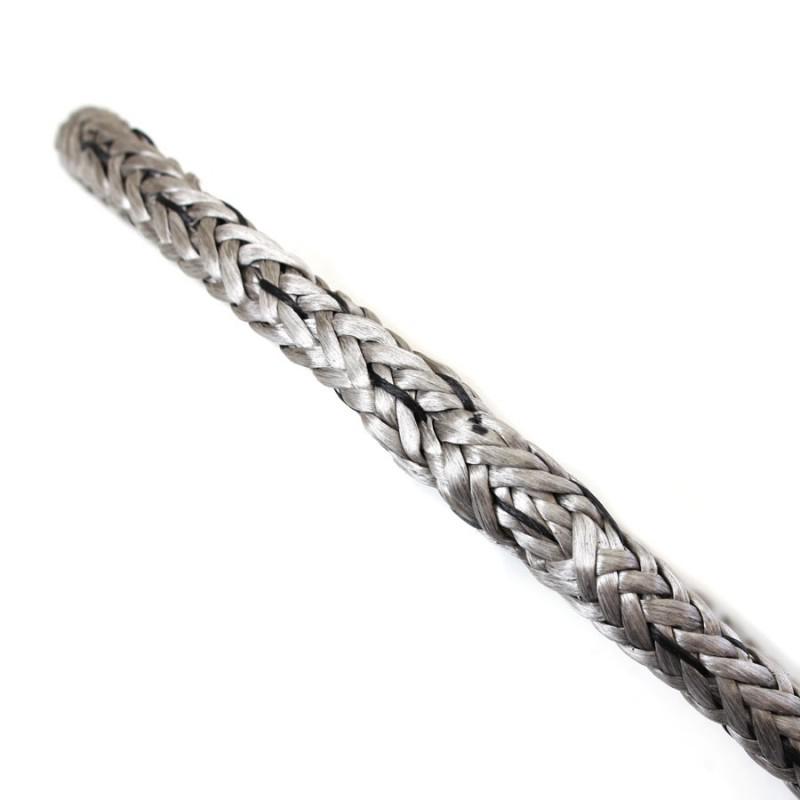 More Information
Features
Jimmy Green Spliced Dyneema Continuous Loops are spliced and whipped in house by the Jimmy Green Rigging Team.
These dyneema loops are produced to order and therefore subject to splicing order lead times.
N.B. The loops are relatively short with regard to the required bury for dyneema 12 strand splicing.
Therefore, they are effectively 'doubled' all the way around the loop.
This means that the diameter is notably increased from the original line.
e.g. a 5mm dyneema loop results in a rope diameter approximately 7mm and a 6mm loop approximately 10mm rope diameter.
Jimmy Green Continuous Dyneema Loops are an extremely useful addition to your rigging system armoury.
Jimmy Green Dyneema Loop Plus Factors:
Versatile
Flexible and pliable
Simple to attach with a cow hitch loop
Easy to shorten with an extra round turn
Extremely strong
Durable
Sympathetic to deck, fittings and hands
Jimmy Green Dyneema Loop Specifications:

| Ø | LLBL | Length |
| --- | --- | --- |
| 2.5mm | 580kg | 150mm |
| 3mm | 950kg | 200mm |
| 4mm | 1300kg | 250mm |
| 5mm | 2600kg | 300mm |
| 6mm | 4300kg | 350mm |
Lengths are approximate, the Rigging Team will ensure that they are the same length if you order a pair Ø = Line diameter
LLBL = LIROS Line Break Load
Length = the approximate internal length of the loop when pulled out straight (not the diameter of the loop)
If you wish to specify a different dimension for the loop then please get in touch via email and we can quote accordingly.
LIROS D Pro article 01505 Facts and Features:
100% pure Dyneema® SK78 rope with the latest in coating technology.
Manufactured in a 12plait hollowbraid construction which makes it extremely good to handle and easy to splice.
LIROS-Heat-Stretch-System - unique LIROS pre-stretching process, calibrated under exacting temperature and tension conditions, designed to minimise stretch and enhance performance.
LIROS Coating System - the LCS process improves resistance to abrasion and UV damage by up to 50% - entails impregnation with a special polyurethane.
High Tech Modulus fibres deliver high load resistance and very low stretch.
Suitable replacement for metal shackles and stainless steel wire in running rigging applications - more user friendly e.g. no bumps, marks, dents or scratches and no wire splinters.
LIROS D Pro article 01505 Plus Factors:
Very Low Elongation <1% at working load
Extended durability in sunlight
High Load
Kind to the hands
Friendly to deck and equipment
LIROS D Pro article 01505 Specification:

| Diameter | LBL | Weight p 100m | WLS |
| --- | --- | --- | --- |
| 2.5mm | 580kg | 0.35kg | < 1% |
| 3mm | 950kg | 0.46kg | < 1% |
| 4mm | 1300kg | 0.7kg | < 1% |
| 5mm | 2600kg | 1.3kg | < 1% |
| 6mm | 4300kg | 2.3kg | < 1% |
| 8mm | 5300kg | 3.5kg | < 1% |
| 10mm | 9000kg | 6.0kg | < 1% |
| 12mm | 11900kg | 7.2kg | < 1% |
LBL = LIROS Break Load
WLS = Stretch at Working Load
Rope Fibre - Dyneema
Rope Diameter - 6mm
Rope Diameter - 4mm
Rope Diameter - 3mm
Rope Diameter - 5mm
Rope Diameter - 2.5mm
Colour - Black