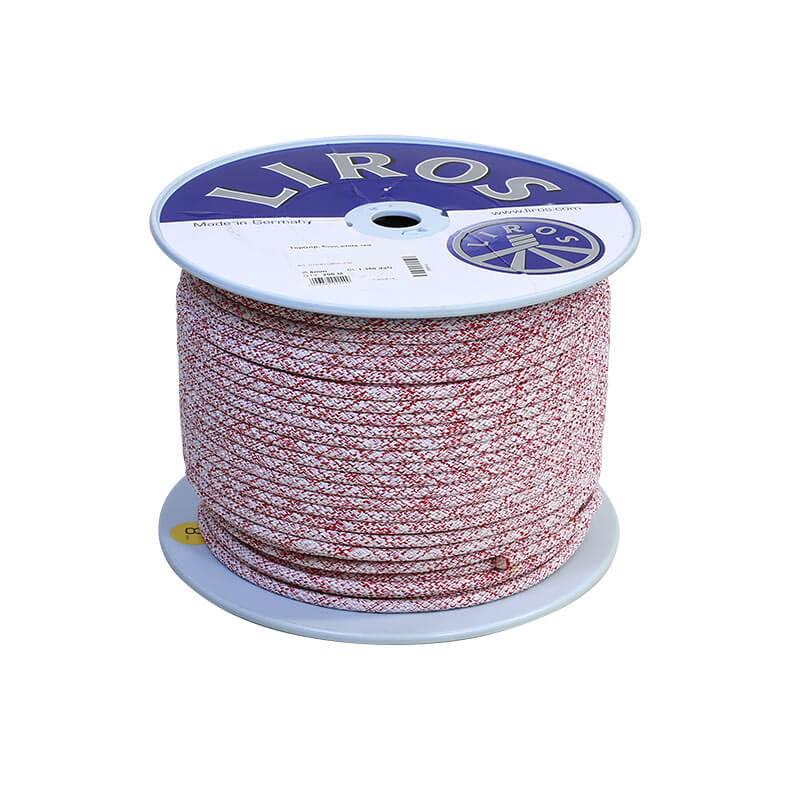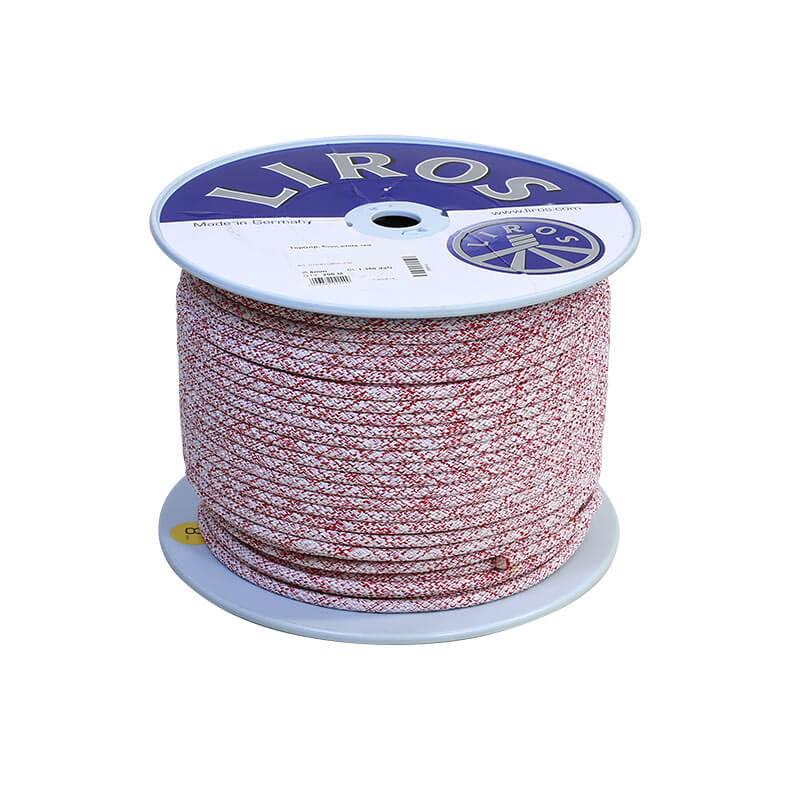 More Information
Features
Accessories
100 metre Reels represent our optimum rate per metre, measured, cut to length and re-wound from bigger reels/bulk boxes in house by Team Jimmy Green
LIROS TopGrip can be supplied on 100m reels on all sizes from 8mm to 14mm
LIROS Top Grip (Art 01540) is a perfect cruising sheet rope.
The braid on braid polyester construction provides high abrasion and UV resistance.
The 1:1 plaited cover has been specially formulated with additional 'matt' fibres that are proud of the surface.
This addition creates a soft feel for excellent handling and superior grip in winches for easy use.
LIROS Top Grip is available in white with a red, black or blue coding.
LIROS TopGrip Article 01540 is a new generation rope specifically designed and constructed for comfortable cruising on yachts up to approximately 15 metres length overall.
TopGrip is an ireplacement for matt plait sheets.
State of the Art LIROS manufacturing prowess together with the strictest quality control imaginable produces a balanced braid on braid construction with consistency second to none.
LIROS TopGrip is extremely durable with a solid round construction that is non-kinking and doesn't flatten under load.
LIROS top quality polyester yarn and specially engineered polyester grip fibre ensure maximum natural UV resilience.
LIROS have integrated specially formulated grip fibres into the outer braid which are very slightly proud of the normal 1:1 plait profile resulting in excellent abrasion resistance.
The blend of matt finish, spun yarn polyester and marginally raised polyester grip fibre creates an exceptional soft-feel handling experience and a superior grip on winches which effectively promotes controlled and efficient sail handling.
LIROS Top Grip is available in a predominant white with a blended coding of red, black or blue in 8mm, 10mm, 12mm and 14mm diameter.
LIROS Top Grip Article 01540 Rope Construction:
Cover (also known as the outer braid, sheath or jacket) = 1:1 plaited polyester grip fibre and high-tenacity, spun-dyed polyester
Core (also known as the inner braid) = high tenacity, maximum tensile strength, plaited polyester
LIROS TopGrip Plus Factors:
Exceptional Grip
Superior abrasion resistance
Comfortable handling
Non kinking, balanced construction
LIROS top quality consistency - core and cover in synchronised tension
Long lasting
Excellent control and wear resistance around winches
Solid round construction that doesn't flatten under load
UV stable and naturally resilient to damage from exposure to the sun
Spliceable
Stretch at working load < 5%
| Diameter | LBL | Max SA | WLS |
| --- | --- | --- | --- |
| 8mm | 1350kg | 20sqm | < 5% |
| 10mm | 2200kg | 30sqm | < 5% |
| 12mm | 3000kg | 40sqm | < 5% |
| 14mm | 4200kg | 70sqm | < 5% |
LBL = LIROS Break Load
Max SA = LIROS recommended Maximum Sail Area
WLS = LIROS Working Load Stretch i.e. stretch at working load
< = less than
Purchase Type - 100 metre Reel
Colour - Black Blend
Colour - Red Blend