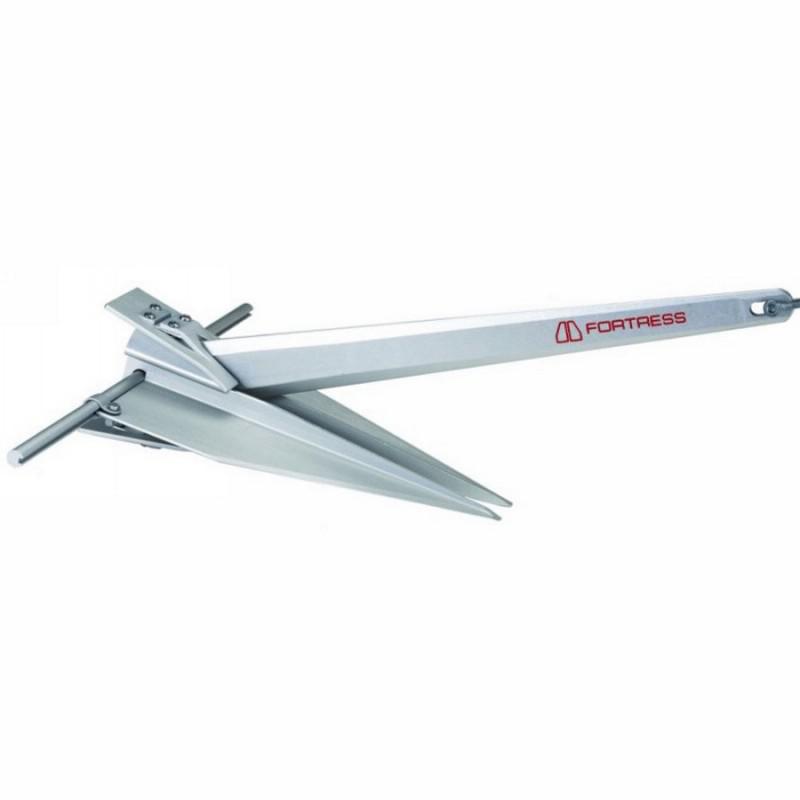 More Information
Features
Accessories
Fortress Anchors are widely regarded as the world's best anchor.
In test after test, from coast to coast and around the world, no anchor in history has consistently outperformed other anchors as much as the Fortress Anchor.
Why?
Years of research and development
High-tech materials
Manufacturing quality control
Thousands of real world tests are your assurance of performance, quality and value.

Fortress weighs only half as much as heavier steel anchors and yet outperforms them all.
The Fortress design does not depend upon weight to provide world class performance.
All this adds up to the best value in anchoring safety and convenience.
Precision machined from an aluminium alloy that is as strong as steel but only half the weight, the Fortress is easy to manage, rustproof, sharper than heavy, dull edged steel and will set faster and penetrate deeper into common sea bottoms for incredible holding power.
Fortress Anchors come with a Lifetime Parts Replacement Warranty.
If an anchor part becomes bent or damaged, then please contact Fortress for an immediate replacement.
The Fortress is popular for 3 main reasons: they are stronger, faster and lighter than other anchors.
Stronger:
A review by the US Navy states that 'Fortress anchors had far greater holding power than any other anchor tested.' What an accolade! Over the years anchor design has been completely revolutionised and designers no longer rely on weight for the anchor's ability to hold. Fortress is no different – Fortress have designed an anchor that relies on its shape to hold position. The fluke angle is adjustable between 32° & 45° which dramatically increases holding power in problem soft mud bottoms – a patented feature for the Fortress anchor. This is why the Fortress has proved itself time & time again. One such occasion is Yachting Monthly – In a nutshell, their reviewer said 'It's holding power was absolutely astonishing.' Yachting Monthly Anchor Review For further test results see the Fortress Comparison Tests
Faster Setting:
A faster setting anchor means peace of mind regardless of the situation. The Fortress anchor is precision made in aluminium-magnesium alloy with sharper flukes that set faster in common seabeds.
Lighter = easier to handle
The Fortress Anchor is far lighter than other anchors on the market. relying on design rather than weight to hold position.
Fortress Anchor features:
Stronger
Faster setting
Lighter
Lifetime parts replacement warranty – free replacements forever - available direct from Fortress USA
Easily disassembled
Easy storage
Excellent as spare or storm anchor
Corrosion resistant
Attractive design
Extremely durable
Adjustable 32° to 45° fluke angle
Tough anodized finish
Fortress Anchor Quick Glance Guide:

| FX | Weight | Max Boat Length | Shank Length (A) | Fluke Length (B) | Stock Length (C) |
| --- | --- | --- | --- | --- | --- |
| FX7 | 1.9kg | below 8m | 610mm | 356mm | 483mm |
| FX11 | 3.2kg | 8-10m | 686mm | 406mm | 559mm |
| FX16 | 4.7kg | 10-12 m | 787mm | 457mm | 635mm |
| FX23 | 7.1kg | 12-14m | 914mm | 533mm | 737mm |
| FX37 | 10.6kg | 14-15.5m | 1016mm | 610mm | 813mm |
| FX55 | 16kg | 16-18m | 1168mm | 686mm | 940mm |
Fortress Warranty Registration Form
Finish - Aluminum
Anchor Weight kg - 16.0kg
Anchor Weight kg - 1.9kg
Anchor Weight kg - 3.2kg
Anchor Weight kg - 4.7kg
Anchor Weight kg - 7.1kg
Anchor Weight kg - 10.6kg