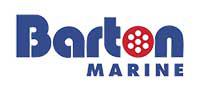 More Information
DO550 clutches are designed for yachts up to 11 metres, offering an impressive maximum 550kg holding power.
Barton D0550 Features and Plus Factors:
New updated and improved construction
Modern, high-performance materials
True clutch mechanism
Sympathetic design for reduced abrasion
Stainless steel rope fairleads at entry and exit point
Bolt-together construction for ease of servicing
Removable inserts for immediate line recognition
The DO550 moulded parts are made from high grade plastics which are strong, light and impact resistant.
Cams and bases are made from marine grade aluminium, 'spectro@ anodised for long life in a harsh marine environment.
The true clutch mechanism allows line to be tensioned while the lever is locked with minimal slippage.
Release under load is positive and requires little effort.
The DO550 also features a positive handle lock.
The tooth design is specially tempered to give maximum grip with minimal slippage whilst still being kind to the line.
The entry and exit points feature stainless steel bushes which protect both line and clutch.
Bolt together construction means that the units can be easily serviced, with spares readily available.
The robust, easy to grip, ergonomically designed handle facilitates a positive smooth lock and unlock action.
Removable inserts on the top face of the handle are a new feature to improve immediate line recognition and prevent potentially embarrassing crew errors.
Barton D0550 Clutch Dimensions

| | Barton | Length | Width | Height | Weight |
| --- | --- | --- | --- | --- | --- |
| Single | 81500 | 133mm | 38mm | 68mm | 343g |
| Double | 81501 | 133m | 65mm | 68mm | 544g |
| Triple | 81502 | 133mm | 91mm | 68mm | 754g |