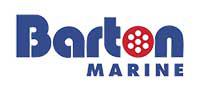 More Information
Accessories
Manufactured from high grade plastics and aluminium with 'Spectro' grey annodised finish.
Lines can be drawn through the clutch in the locked position as the line moves freely in the direction of pull and is restricted from returning by a spring-loaded cam mechanism.
This compact range is suitable for securing halyards and control lines on yachts up to 30ft - or for lighter duties on large craft.
Locking levers come in grey, red and white and a set of marking stickers is included.
Barton lightweight clutch dimensions

| Rope Clutch | Part No. | Length mm | Width MM | Height m | Weight grams |
| --- | --- | --- | --- | --- | --- |
| Single Rope Clutch | 80 500 | 107 | 28 | 62 | 250 |
| Double Rope Clutch | 80 501 | 107 | 54 | 62 | 480 |
| Triple Rope Clutch | 80 502 | 107 | 80 | 62 | 710 |