The winter season has a habit of affecting the quality of your mooring kit whether you have wintered on the hard or not. So what should I look out for before my spring launch?
Ropes, shackles and chain can look surprisingly different after a few months hiding away from sight. It's a familiar story, the boat was safely stowed away and winterised, the warps and lines cleaned and bagged ready for the new season. But somehow, when spring breaks and you take the lines out ready for action, the chafe and rust fairies appear to have sneaked in over the past 4 or 5 months.
In reality, things probably haven't changed that much from when you put them away. Over the course of the previous season, UV rays, abrasion and corrosion were imperceptibly slowly working at your kit. Day to day not much changes. Then you come back in the spring with a fresh eye and realise that closer inspection is required. After all, peace of mind when you leave your boat moored on that quiet launch day can be quickly disturbed by a spring forecast.
So, before your yacht can go back in the water, a thorough inspection of the mooring system needs to be on the jobs list. There are a few different mooring types to be considered. Each with their own particular set of checks.
Inspection of Mooring Lines used alongside pontoons and onto harbour walls
Mooring alongside a pontoon is becoming increasingly popular as coastal marinas continue to invest in this convenient method for yacht access. Typically, this type of yacht mooring will rely on several mooring lines to secure the boat to the pontoon. Purpose built pontoons usually feature rope friendly cleats that sit at a fixed height above the water.
Chafe is therefore usually minimal due to the load being spread around several warps and the relatively shallow angles from pontoon to deck level.
Warps need to be inspected:
along the length of the line (especially if the warps don't have set positions)
inside the loop of any soft splice
at the splice itself for structure and chafe
at the throat of any splice in contact with a thimble
Although maintenance of the pontoon itself is commonly covered by the Marina fees. It's worth inspecting all the cleats around your birth to make sure nothing is damaged or loose. Especially if you find a chafe point in a line.
In terms of chafe and UV damage, most mooring warps are manufactured using polyester. This fibre has the best natural UV resistance of any fibre and is also highly abrasion resistant. A good quality 3-strand or braided Polyester line such as
LIROS 3 Strand Polyester or LIROS Braided Dockline 00133
should last several seasons. Signs that the line is wearing well include a smooth homogenous diameter with relatively few parted individual strands. Lines are expected to change from slightly shiny to matt finish. Any damage to the cover of a double braid line that exposes the core requires the line to be replaced.
Not all mooring points are particularly kind. Long shorelines to a harbour wall or even mooring alongside a wall in non-tidal areas may require the use of bollards that are less than kind on your lines. In this instance, take care to inspect for chafe particularly around soft eye splices and any part of the line prone to laying on the wall itself.
Inspection of Swinging Moorings and Trot or Pile Moorings
Swinging moorings utilise fewer warps than when mooring alongside. Typically, the full load of the yacht is taken by one primary bridle or strop with a back-up laid in place ready to take the load should a failure occur. Inspection criteria and schedules for everything from the buoy downwards need to be in conjunction with the local authority and are not covered here. Everything from the buoy up to the boat should be inspected:
along the entire length of the line (especially where the strop passes through fairleads or over a bow roller)
inside the loop of any soft splice
at the splice itself for structure and chafe
at the throat of any splice in contact with a thimble
on the bearing edge of the thimble
on the bearing edge of the shackle pin and opposite bearing edge.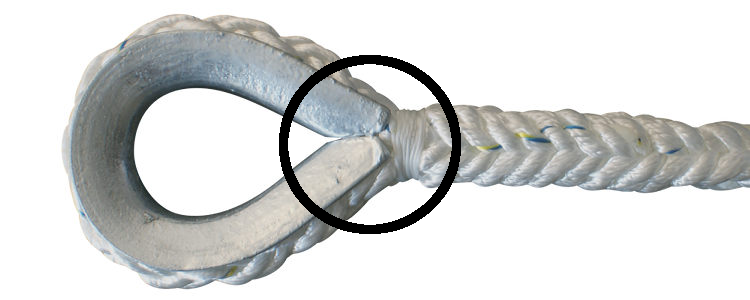 Particular attention should be paid to the interaction between the thimble and the throat of the splice. Teardrop thimbles occasionally rotate in the splice or have unwanted burs and damage from use. This area is always worth meticulous scrutiny and replacement of the warps should be a priority if any thimble rotation cannot be corrected and re-whipped.
Nylon or Polyester for Mooring Warps
Mooring strops for swinging and trot moorings tend to be Nylon rather than polyester. Nylon fibre (polyamide) is commonly used because it is stronger and has more stretch than polyester. Nylon is ideal when strops are generally just a few metres and need to take all the load of holding the boat.
Even allowing for the extra strength and stretch of Nylon, single swinging mooring strops are usually several sizes bigger than the warps used for mooring alongside. N.B. Always use Anchorplait Nylon as opposed to a 3-strand rope for single mooring warps because a 3-strand warp may cockle or unravel when continually twisted against the lay of the rope by the yacht swinging around the mooring. Anchorplait Nylon is the rope that will not cockle. UV damage is less of an issue due to the volume of material hidden from the sun's damaging rays in the middle of the line. The increased size is also an extra wear-resistance safety factor. Threading anti-chafe tubular webbing onto the strop will afford added protection against both abrasion and UV deterioration. However, even with a larger diameter, the same rules apply as with the mooring warps for mooring alongside. Signs that the line is wearing well include a smooth homogenous diameter with relatively few parted individual strands. A healthy line may show signs of general wear but no specific areas of increased damage.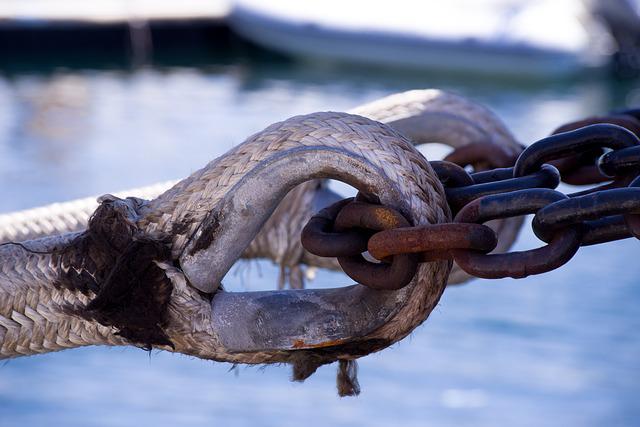 Dissimilar metals and thimbles in Mooring Systems
If dissimilar metals have been used in contact with one another, look for corrosion on the contact point and also accelerated corrosion in areas surrounding it. If any more than 5-10% of the material has been removed, then it is advisable to replace the item.
For further advice on how to correctly specify your mooring equipment. Please visit our mooring category page with its wealth of product specification information.
Published: Feb 1, 2019