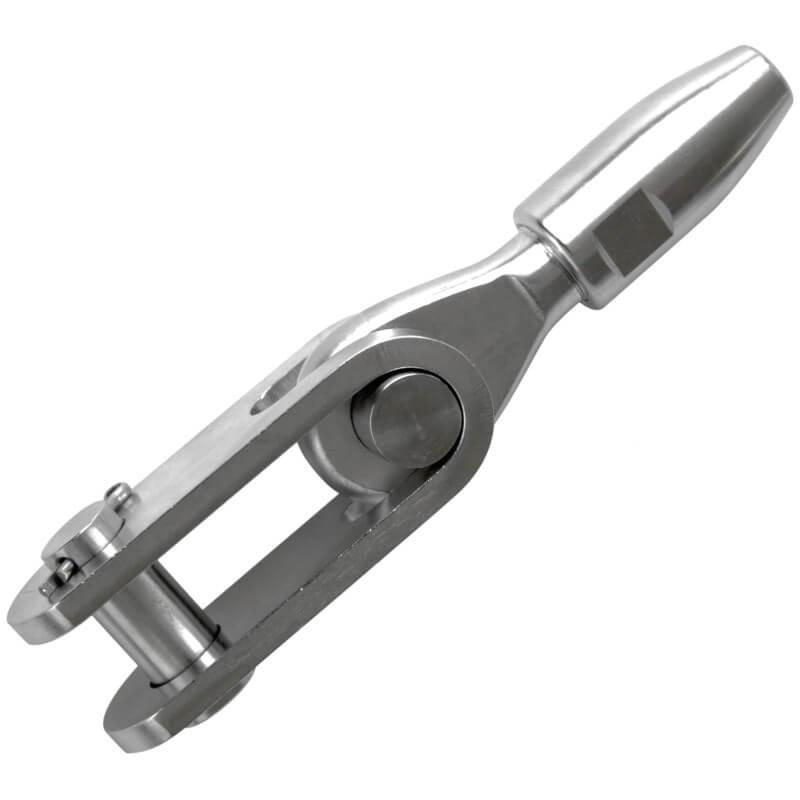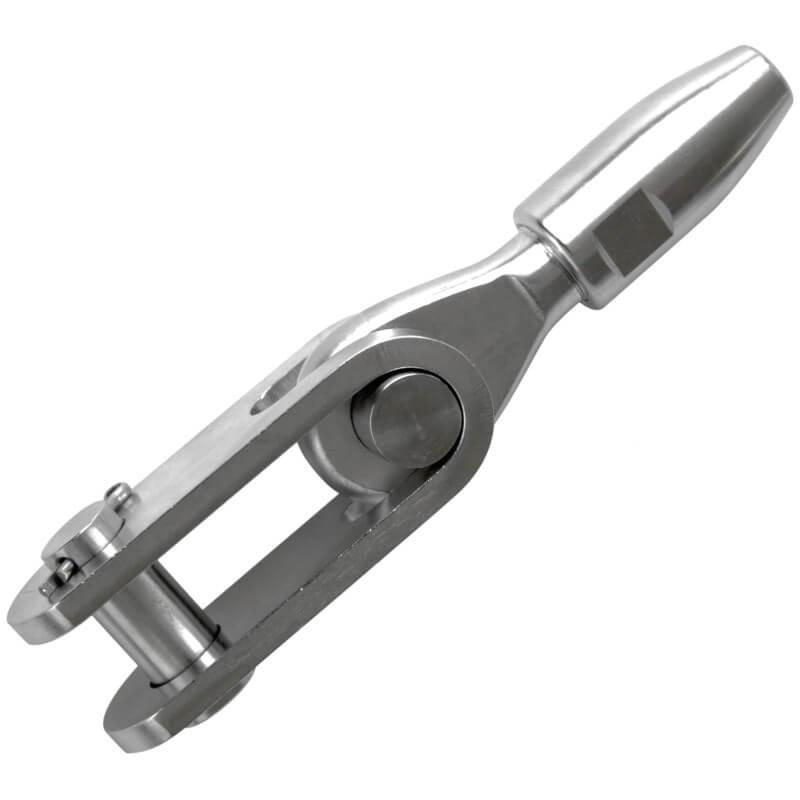 More Information
Accessories
Swageless Cone Terminal

The SCT-terminal is designed for use on 1x19 wire construction as well as compacted and Dyform wires.

The user is responsible for proper use and installation of the components.

Blue Wave does not take responsibility for damaged threads, due to over-tightening or lack of Loctite.

Blue Wave does not recommend to seal the terminal, but advise to rinse the terminal regularly with fresh water and treat with WD40.


Part
Wire Type
Wire Ø
mm
Pin Ø
mm
A
mm
B
mm
C
mm
KW
mm
L1
mm
L2
mm
Break
Load Kg.
BW-SC830804
1x19 Wire
4
8
10
20
9
12
85
27
2200
BW-SC830804-C
1x7 Dyform/Compact
4
8
10
20
9
12
85
27
2200
BW-SC831005
1x19 Wire
5
9.5
12
26
12
14
102
30
2800
BW-SC831005-C
1x19 Dyform/Compact
5
9.5
12
26
12
14
102
30
2800
BW-SC831306
1x19 Wire
6
12.7
18
36
18
17
132
38
5000
BW-SC831306-C
1x19 Dyform/Compact
6
12.7
18
36
18
17
132
38
5000
BW-SC831307
1x19 Wire
7
12.7
18
35
18
19
145
46
6000
BW-SC831307-C
1x19 Dyform/Compact
7
12.7
18
35
18
19
145
46
6000
BW-SC831608
1x19 Wire
8
16
20
41
20
22
173
54
8000
BW-SC831608-C
1x19 Dyform/Compact
8
16
20
41
20
22
173
54
8000
BW-SC831910
1x19 Wire
10
19
24
45
25
27
202
64
11000
BW-SC831910-C
1x19 Dyform/Compact
10
19
24
45
25
27
202
64
11000
BW-SC831912
1x19 Wire
12
19
24
45
25
33
226
82
17000
BW-SC831912-C
1x19 Dyform/Compact
12
19
24
45
25
33
226
82
17000
BW-SC832214
1x19 Wire
14
22
26
48
30
37
247
89
23000
BW-SC832214-C
1x36 Compact
14
22
26
48
30
37
247
89
23000
BW-SC832214-D
1x19 Dyform
14
22
26
48
30
37
247
89
23000
BW-SC832516
1x19 Wire
16
25.4
29
61
37
42
285
100
28000
BW-SC832516-C
1x36 Compact
16
25.4
29
61
37
42
285
100
28000
BW-SC832516-D
1x19 Dyform
16
25.4
29
61
37
42
285
100
28000
BW-SC832819
1x19 Wire
19
28
34
65
34
44
319
115
30000
BW-SC833522
1x19 Wire
22
34.8
44
83
41
50
377
125
38000
BW-SC833526
1x19 Wire
26
34.8
44
83
41
66
403
150
48000