More Information
Stainless Steel Chain Hooks
Chain Hooks are suitable for taking the strain from your windlass and alleviating the snatch on your anchor rode.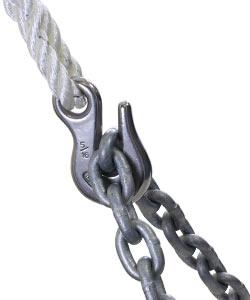 The hook fits over one link and bears against the next link, see the illustration above.
Deploy the hook in conjunction with a nylon line comparable in strength to your main anchor rode.
A mooring compensator on the nylon line will subdue the snatch load.
This hook is also available from Jimmy Green Marine, spliced and finished to your requirements, and ready to deploy.
Spliced and Finished Single Snubbing Line in 3-strand or Anchorplait Nylon
Spliced and Finished Snubbing V-shaped bridle in Anchorplait Nylon
The V-shaped bridle centres the load by sharing the load through both bow fairleads, port and starboard.
The 6mm chain hook also fits 7mm
The 8mm Chain hook also fits 7mm and 10mm
Chain Hook Dimensions and Specifications:

| Chain Size | Reference | Stamped | Eye Diameter | Gap | Thickness | Maximum Shackle | MBL |
| --- | --- | --- | --- | --- | --- | --- | --- |
| 6mm | APL-SSEGH06 | 1/4" | 13mm | 8mm | 7-11mm | 11mm (13mm Pin) | 2478kg |
| 8mm | APL-SSEGH08 | 5/16" | 14mm | 10mm | 9-12mm | 11mm (13mm Pin) | 3621kg |
| 10mm | APL-SSEGH10 | 3/8" | 19mm | 11.5mm | 12-15mm | 13mm (16mm Pin) | 5854kg |
| 12mm | APL-SSEGH12 | 1/2" | 23mm | 15.5mm | 13-16mm | 19mm (22mm Pin) | 6500kg |
Thickness - the hooks do not have a uniform thickness - they are thinner at the eye end
Maximum Shackle = the largest Green Pin, Yellow Pin or Jimmy Green Galvanised Pin Shackle with a pin that will fit through the eye
MBL = APL Rated Break Load