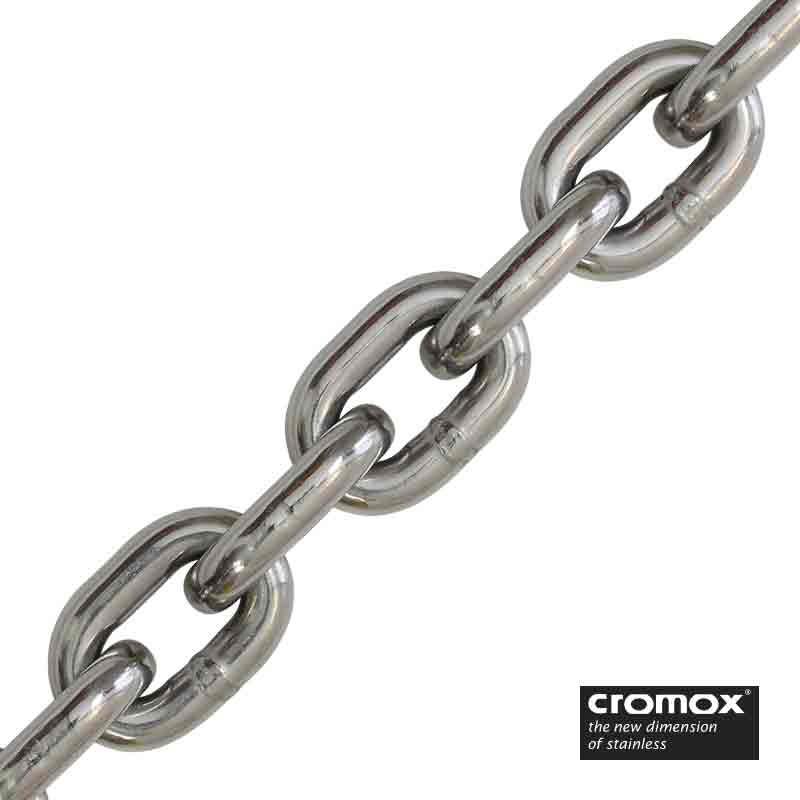 More Information
Features
Accessories
cromox G6 PLUS stainless steel chain AISI 318LN, manufactured to the highest standards in the Ketten Wälder factory, near Munich in Germany.
cromox Premium type 35 anchor chain is manufactured from grade 60 AISI 318LN Duplex bright polished stainless steel for superior corrosion resistance.
2 year Manufacturer Guarantee against corrosion.
This warranty can be extended to 3 years with electro polishing G6 PLUS Electro Polished
Premium type 35 cromox chain is tested, calibrated and bright polish finished.
Suitable for Worldwide Ocean Cruising
| cromox G6 | Pitch | MBL | BL (kg) | Weight per metre |
| --- | --- | --- | --- | --- |
| 6mm DIN766 | 18.5mm | 38.5KN | 3925kg | 0.78kg |
| 8mm DIN766 | 24mm | 66KN | 6730kg | 1.35kg |
| 10mm DIN766 | 28mm | 104KN | 10605kg | 2.3kg |
| 10mm ISO | 30mm | 104KN | 10605kg | 2.2kg |
| 12mm ISO | 36mm | 160KN | 16315kg | 3.2kg |
| 13mm DIN766 | 36mm | 177KN | 18049kg | 3.9kg |
MBL = manufacturer tested break load
1Kn Force = 101.972Kg Break Load
Purchase Type - Set Lengths
Chain Size - 13mm
Chain Size - 6mm
Chain Size - 8mm
Chain Size - 10mm
Chain Size - 12mm
Chain Finish - Stainless Steel