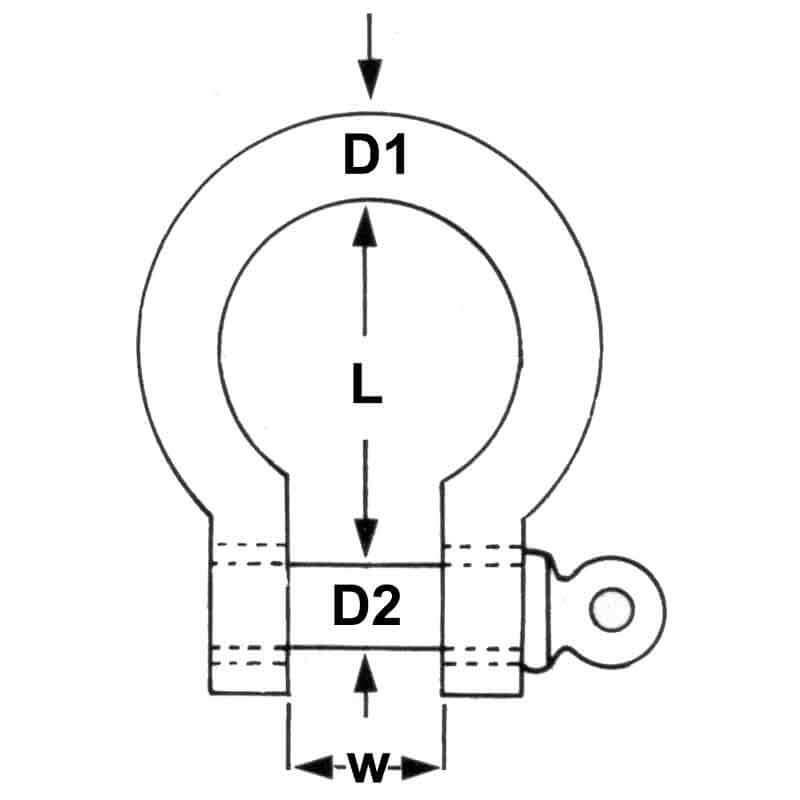 Load Rated Hot Dip Galvanised Bow Shackles
PRB-ED-906108
Drop forged from high tensile grade 6 carbon steel
Hot dip galvanised for corrosion resistance
Individually embossed with:
CE - the Working Load Limit - the body diameter in imperial measurement (D1)
The pin diameter is one size larger than the body for added strength
Select by body and pin diameter in metric equivalent
More Information
Features
Load Rated Hot Dip Galvanised Bow Shackles
Load-rated bow shackles are much stronger and more durable than regular galvanised shackles, for four good reasons:
Drop Forging Manufacturing Process:

Drop forging increases the break load and toughness of the steel by matching the grain line to the contours of the component.
Drop forging steel is stronger, more robust, and more dependable than machining, casting or fabricating (welding)

High Tensile Grade 6 Carbon Steel - stronger than standard mild steel
Narrower Jaw Width - the shorter span increases the flexural strength, reducing the potential deflection (bending)
Increased Pin Diameter - Larger cross sectional area improves flexural strength (the ability to withstand a transverse bending force)
Load Rated Bow Shackles are finished with a hot dip galvanising treatment for extra corrosion resistance. 
Load Rated Shackles are appropriate for anchoring, mooring and other load critical applications -  the internal rounded space created by the bow shape allows extra articulation for taking loads at changing angles.
Each shackle is manufactured to US Fed Spec. RR-C-271 and embossed with:
CE = mark of approval
WLL =  The Working Load Limit
Size = The Body Ø (D1)
A certificate is available on request
Load Rated Galvanised Bow Shackles

| Reference | Ø D1 Body | Ø D2 Pin | Inside Length | Jaw Width | WLL | Safety Factor | MBL |
| --- | --- | --- | --- | --- | --- | --- | --- |
| ED-906108 | 1/4" / 6mm | 5/16" / 8mm | 29mm | 12.0mm | 0.50 ton | x6 | 3 ton |
| ED-906110 | 5/16" / 8mm | 3/8" / 10mm | 31mm | 13.5mm | 0.75 ton | x6 | 4.5 ton |
| ED-906111 | 3/8" / 10mm | 7/16" / 11mm | 36mm | 17.0mm | 1.00 ton | x6 | 6 ton |
| ED-906112 | 7/16" / 11mm | 1/2" / 12mm | 43mm | 18.5mm | 1.50 ton | x6 | 9 ton |
| ED-906116 | 1/2" / 12mm | 5/8" / 16mm | 48mm | 21.0mm | 2.00 ton | x6 | 12 ton |
| ED-906120 | 5/8" / 16mm | 3/4" / 20mm | 61mm | 27.0mm | 3.25 ton | x6 | 19.5 ton |
| ED-906122 | 3/4" / 20mm | 7/8" / 22mm | 72mm | 31.0mm | 4.75 ton | x6 | 28.5 ton |
| ED-906125 | 7/8" / 22mm | 1" / 25mm | 83mm | 36.0mm | 6.50 ton | x6 | 39 ton |
| ED-906127 | 1" / 25mm | 1 1/8" / 27mm | 95mm | 43.0mm | 8.50 ton | x6 | 51 ton |
| ED-906130 | 1 1/8" / 27mm | 1 1/4" / 30mm | 108mm | 46.0mm | 9.50 ton | x6 | 57 ton |
| ED-906136 | 1 1/4" / 30mm | 1 3/8" / 36mm | 115mm | 51.0mm | 12.00 ton | x6 | 72 ton |
| ED-906138 | 1 3/8" / 36mm | 1 1/12" / 38mm | 133mm | 57.0mm | 13.50 ton | x6 | 81 ton |
| ED-906141 | 1 1/2" / 38mm | 1 5/8 / 41mm | 146mm | 60.0mm | 17.00 ton | x6 | 102 ton |
| ED-906150 | 1 3/4" / 45mm | 2" / 50mm | 177mm | 73.0mm | 25.00 ton | x6 | 150 ton |
WLL = Working Load Limit
MBL = Estimated Manufacturer Break Load
The Load Rating Safety Factor applied = 6:1
Therefore the estimated break load = WLL x 6
Shackle Type - Bow Shackle