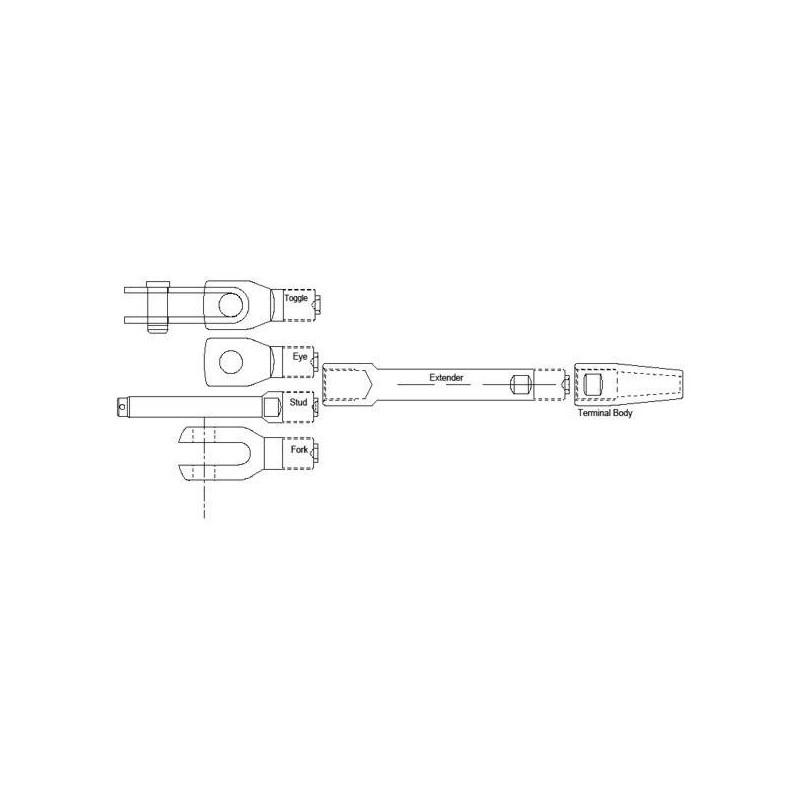 More Information
Petersen Compression Terminal Extenders
The Hi-MOD Compression Terminal Extender is a versatile component which will allow a damaged swage terminal to be cut of and replaced with a Hi-Mod terminal.
The extender fits between the two halves of any Hi-Mod compression terminal to make up the lost length.
The extender makes up for approximately 15 times the wire diameter in length and can even be joined to another extender.
Petersen Advisory:
The extender is a temporary fix and damaged wires should be replaced as soon as possible.
| Wire Diameter | Extension | A/FL | A/FS | Outside Diameter | Weight |
| --- | --- | --- | --- | --- | --- |
| 3mm | 45mm | 6mm | 9.5mm | 11mm | 24g |
| 4mm | 60mm | 8mm | 11mm | 13mm | 39g |
| 5mm | 75mm | 9mm | 14mm | 16mm | 100g |
| 6mm | 90mm | 11mm | 17mm | 19mm | 131g |
| 7mm | 105mm | 13mm | 20mm | 22mm | 207g |
| 8mm | 120mm | 16mm | 22mm | 26mm | 311g |
| 10mm | 150mm | 17mm | 26mm | 30mm | 536g |
| 12mm | 180mm | 22mm | 32mm | 39mm | 1023g |
| 14mm | 210mm | 24mm | 36mm | 44mm | 1637g |