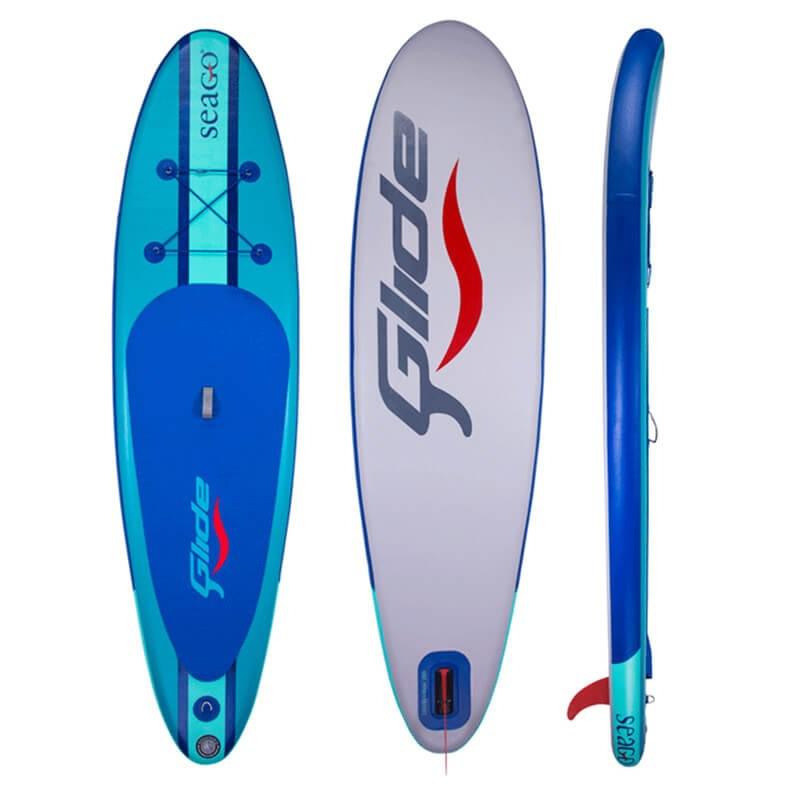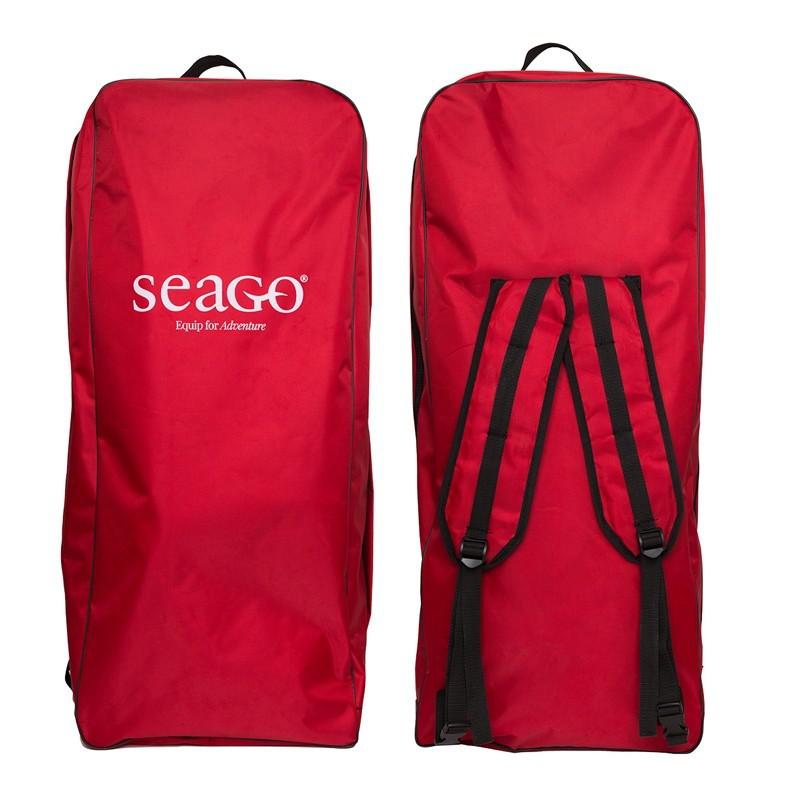 More Information
Accessories
Stand Up PaddleBoard - SUP
Paddleboarding is the fastest growing watersport of the last 20 years, it is easy to learn and with a few hours of tutition you can really start to enjoy the sport.
Seago Paddleboards come in two unique bright designs with all the features you would expect from a well designed paddleboard.
We have chosen the Glide as our preferred colour and graphic
Seago paddle boards come complete with:
Inflatable sup
3 Piece adjustable paddle
Ankle leash
High pressure pump
Removable fin
Repair kit
Carry bag
Available in 2 models, but we stock the Glide version:
Freeride - blue, aqua and red
Glide - aqua and blue
Size: 10′ 6″ long, 280 Litre volume (320L x 82W x 15D in cm)
Seago Paddle Board facts, features and plus factors:
Drop stitch fabric:
Incredibly durable heavy duty PVC laminated drop stitched fabric.
Bungy cord luggage storage:
Tough shock cord is used to allow you to store belongings while out on the water. The shock cord is attached to 4 strong and secure anchor points.
Large EVA grip deckpad:
Diamond pattern 5mm EVA deckpad offers maximum grip and comfort while standing on the SUP. The deckpad covers a large area of the top deck.
Raised foot pad:
For advanced paddleboarders the raised foot pad will give you support while carving in the surf and white water.
Ankle leash anchor point:
The secure leash anchor point is located at the stern of the board. Conveniently out of the way while paddling or surfing.
Storage bag / rucksack:
Designed to comfortably hold the inflatable SUP and all of the essential kit need to get out on the water. The vented underside allows water out and air in to keep the kit dry. Can be used as a rucksack or carried with the top handle.
3 Piece paddle:
Convenient and sturdy, this paddle is fully adjustable to accommodate people of different height. The blade is made from ABS with plenty of surface area to get you moving.
High pressure pump with gauge:
This high pressure pump with gauge will inflate your paddle board to the correct pressure and get you on the water in no time.
Coiled Ankle leash:
Stay connected to your paddle board at all times with this high strength leash. The leash is coiled keeping it tidy while paddling or surfing and has a strong, but comfortable Velcro strap for speedy fitting and release.
Removable fin:
The removable high-density fin slots in the fin box with no tools required.
Repair Kit:
Just in case you damage your board