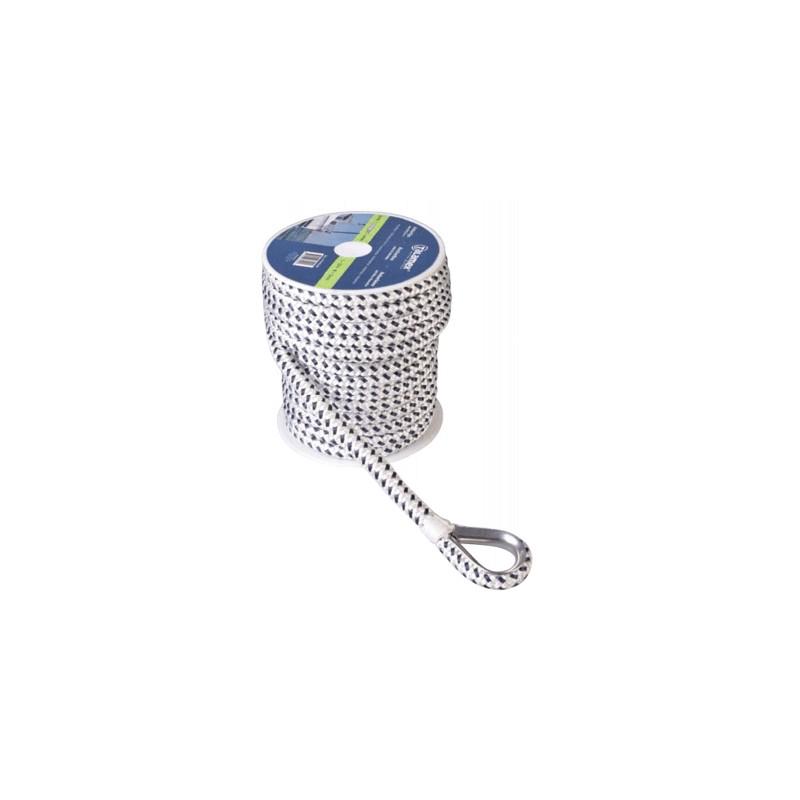 More Information
Features
Braided Leaded Anchor Line
Talamex ready-to-use anchor lines are produced from braid on braid polyester with a stainless steel thimble spliced into one end at the factory.
Polyester line is very suitable for anchoring because it is relatively heavy (sinks), abrasion and chafe resistant with sufficient stretch to absorb the shock loads caused by wind, tide and wave action.
The lead is added into the anchor end of the line (the end with the stainless steel thimble) at 140g per metre.
This helps to weight the anchor end of the line and negate the need for any chain.
A short piece of Stainless Steel Chain may be considered advantageous to guard against the worst of the abrasion caused by lying on, and pulling along the seabed.
Leaded Anchorlines are available in diameters 12mm, 14mm and 16mm
Colour: white with black coding
Supplied on a compact plastic reel.
| Diameter | Splice | Total Length | Length with lead | Lead weight per metre | Total lead weight |
| --- | --- | --- | --- | --- | --- |
| 12mm | Yes | 40 metres | 10 metres | 140g | 1.4kg |
| 14mm | Yes | 40 metres | 12 metres | 140g | 1.68kg |
| 16mm | Yes | 40 metres | 15 metres | 140g | 2.1kg |
The diameter of the line is generally determined by yacht length overall combined with displacement (weight)
If the length or the weight of your yacht exceeds the parameters for a given line diameter, it is advisable to upgrade to the next size.
If the line is intended as a kedge, racing provision, or secondary back up anchor, the size should be determined by your anticipated application.
Talamex Size Guide for Braided Polyester Leaded Anchor Line:
12mm = for yachts and boats up to approximately 8 metres LOA and/or a maximum displacement 4000kg
14mm = for yachts and boats up to approximately 10 metres LOA and/or a maximum displacement 5000kg
16mm = for yachts and boats up to approximately 12 metres LOA and/or a maximum displacement 6000kg
Braided Leaded Anchor Line Facts, Features and Plus Factors:
Ideal kedge or second anchor warp
Can be used without chain
Comfortable to handle
Manageable
Easy to manoevre onboard
Straightforward stowage
Stainless steel thimble eye splice in one end for strong attachment
Supplied on a plastic reel
Rope Fibre - Polyester
Rope Diameter - 6mm
Rope Diameter - 12mm
Rope Diameter - 14mm
Rope Diameter - 16mm