Manufactured using composite materials, the CT35 is a single propeller thruster with a 125mm diameter tunnel.
The CT35 is ideally suited to motor boats and deep footed sailing yachts that are between 17'-34'.
Like all Max Power electric tunnel thrusters, the CT35 is easy to install, maintenance free, and integrates all the unique features common to this range.
Accessories compatible with the CT35 MONO COMPO 12V - 42529
MP TOUCH PANEL BLACK 318200
MP FUSE HOLDER T1 - 35017
MP FUSE 125A T1 - 35021
MP TUBE 125 X 750MM - 142547
CABLE - PER MTR - MPOP3176
D imensions:
A- 190mm, B- 140mm, C- 210mm, D- 125mm, E- 4-5mm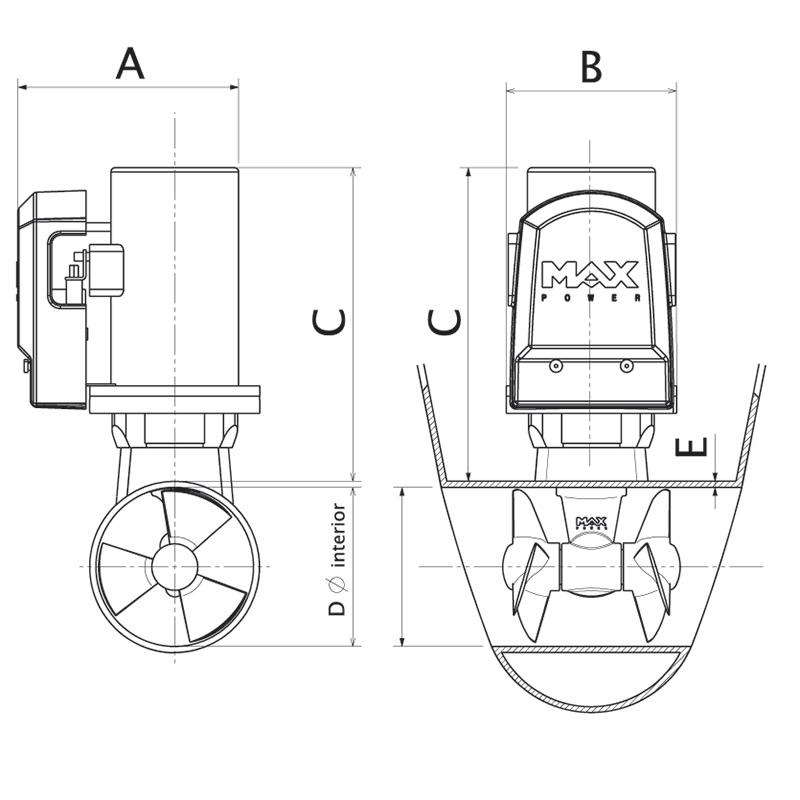 * Thrusters are designed to run at 10.75V on 12V units and 22V on 24V units. Higher voltages will result in higher thrust ratings, higher power consumption, and a reduced duty cycle.
* Performance data is given for a thruster installed at an immersion depth of one tunnel's diameter, in a tunnel no longer than twice the tunnel's diameter, and this within a variation of + / - 6%. Longer tunnels will result in lower thrust ratings and higher power consumption.