Max Power are world renowned manufacturers at the forefront of innovative technology in the production of robust, dependable bow thrusters for sailing yachts and motor boats.

The CT60 is available for either a 12 volt or 24 volt power supply with the benefit of an impressive thrust capacity rating delivered via a single 6 blade propeller (Mono)
Max Power advise that the CT60 is generally suitable for motor boats and sailboats up to approximately 12 metres length overall, see chart below with more information relating to displacement and windage.
| Motor | Heavy Displacement, High Windage | Medium Displacement and Windage | Light Displacement and Windage |
| --- | --- | --- | --- |
| Sail | Cruising | Fast Cruising | Super Fast Cruising |
| LOA | up to 10 metres | 8-11 metres | 8-12 metres |
LOA = Length Overall

Max Power CT60 electric tunnel thrusters are an innovative, composite drive leg design, with a single (Mono) 6 blade propeller, integrating all the unique features common to the Max Power electric tunnel thruster range.


Included in the box, Thruster only:
Thruster only means just the thruster unit as per the picture


CT60 compatible Max Power Accessories, NOT included in the box:

1 x Single Joystick, part number 318202
1 x 160 amp Fuse Holder, part number 35017
1 x Compatible Fuse, 12 volt part number 35019, 24 volt part number 35017
Battery Isolator, recommended to validate your MAX Power warranty, part number 318400
Fibreglass tunnel, 185mm diameter, available in lengths from 0.75 - 2.5 metres e.g. 1 metre part number 42550
Cable, available to purchase by the metre, part number 312781
N.B. professional installation is recommended


Max Power CT60 Facts, Features and PLUS Factors:
Simple, trouble free installation
Boat Length: 6-12 metres approximate length overall
Zero maintenance
Patented composite drive legs
Case hardened spiro-conical gears
Line shields
Purpose-built DC motors
Electronic control boxes are an industry leading safety factor
Safe, high-power electrical circuit connections
Purpose-built high specification DC contactors
All Max Power electric tunnel unique features included
Max Power CT60 Electric Tunnel Specifications
Boat Length
Power
Power Supply
Thrust
Propeller
Propeller Blades
Tunnel Diameter
Weight
up to 12 metres
4.35kw / 5.8hp
12V
58 Kgf
Single
6
185mm
14.7kg
up to 12 metres
4.4kw / 5.9hp
24V
63Kgf
Single
6
185mm
14.8kg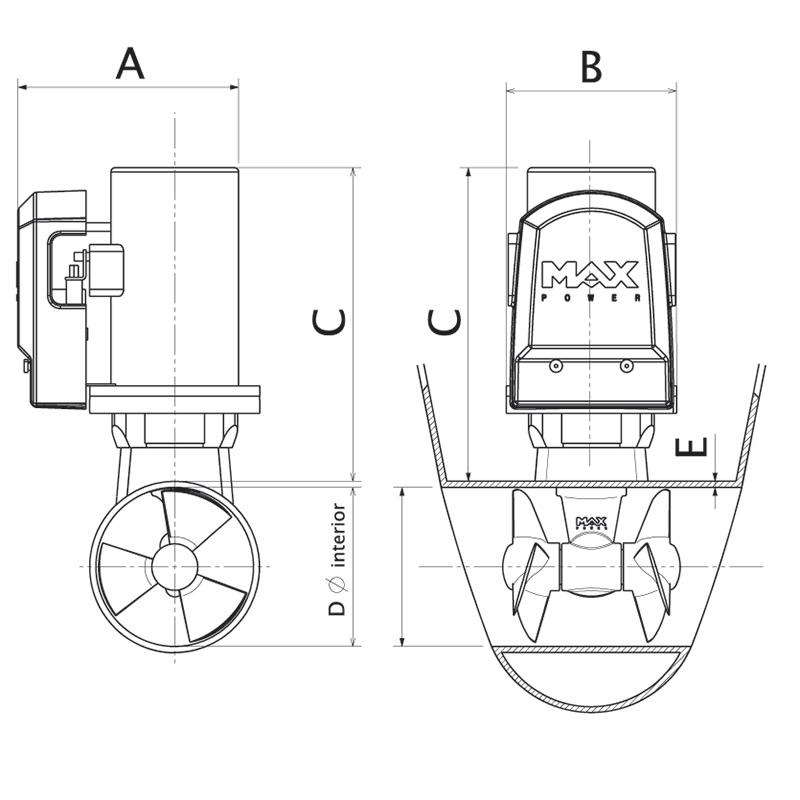 CT45 Dimensions:

| A | B | C | D | E |
| --- | --- | --- | --- | --- |
| 210mm | 140mm | 275mm | 185mm | 6 to 7mm |
D = Tunnel internal diameter
E = tunnel wall thickness
Max Power Advisory
* Thrusters are designed to run at 10.75V on 12V units and 22V on 24V units. Higher voltages will result in higher thrust ratings, higher power consumption, and a reduced duty cycle.
* Performance data is given for a thruster installed at an immersion depth of one tunnel's diameter, in a tunnel no longer than twice the tunnel's diameter, and this within a variation of + / - 6%.

Longer tunnels will result in lower thrust ratings and higher power consumption.