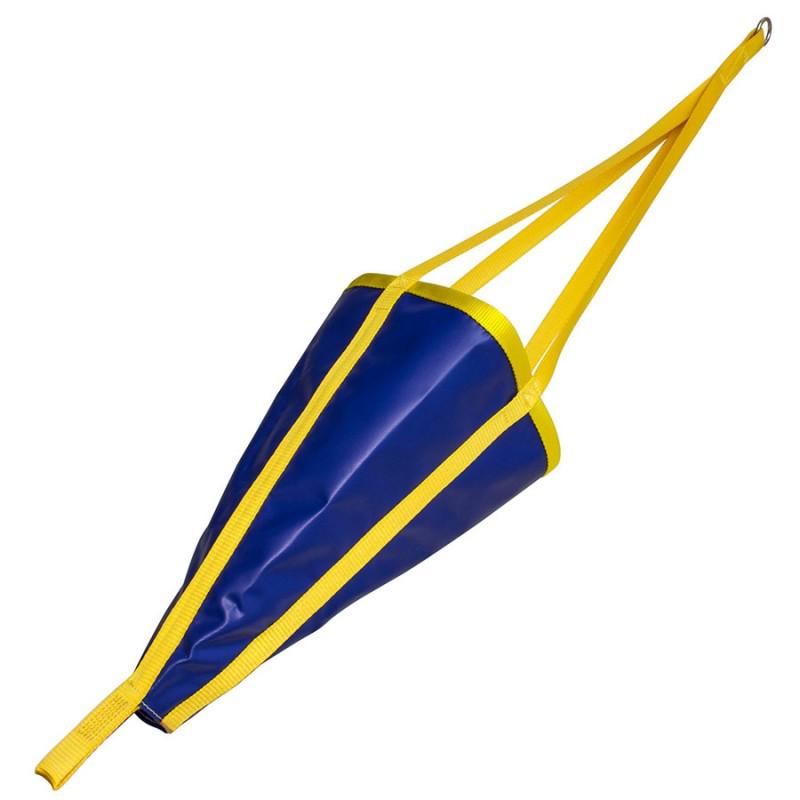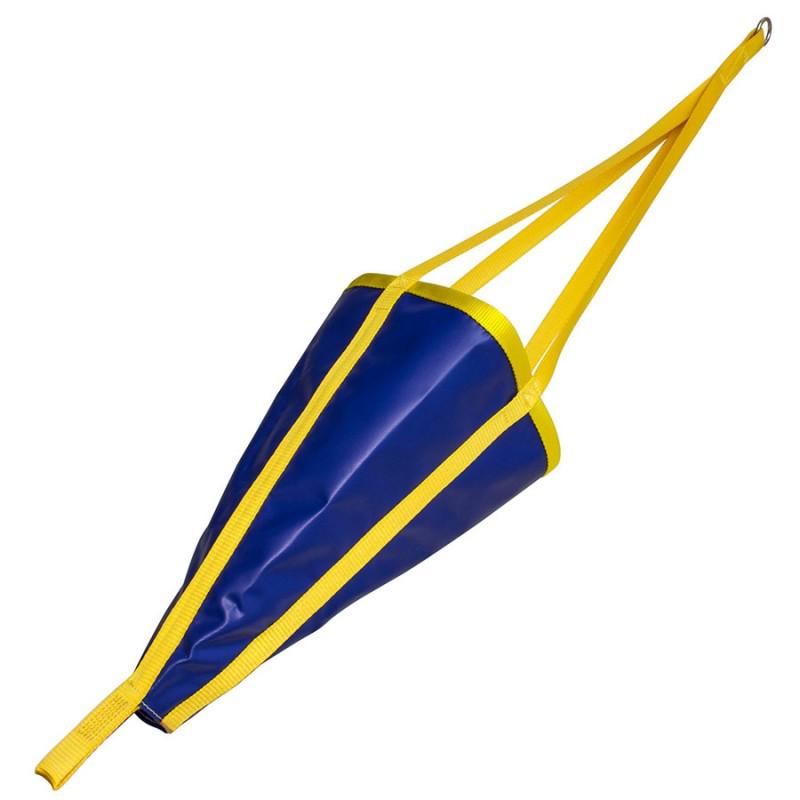 More Information
Accessories
PBO Best Budget Buy. PBO wrote: "Jimmy Green, based in Beer in East Devon, make a number of sizes of drogue - this one was a Size 10, suitable for Mohraina's 29ft. It comprises a PVC cone. At low revs, it reduced our speed from 3.5 knots to 2 knots. exerting 28kg on the line. Flat out, it reduced the boat speed from 7 to 4.5 knots, exerting 100kg on the line. It set immediately on immersion despite the lack of any stiffening to hold the mouth of the cone open, and behaved well underwater, with no spinning, slewing or porpoising. A short length of chain helped keep it submerged. It was simple to recover, and a tripline will help to collapse the drogue on recovery" PBO, July 2014
Yacht drogues are designed to be towed from the stern during adverse weather conditions, helping to maintain course downwind and avoid broaching.
Yacht Drogue Deployment and setup:
slow the yacht to afford more control
keep the boat tracking down wind
help prevent broaching in surf conditions
is possible from the bow in extreme conditions
Yacht Drogues are normally deployed from the stern, attached via an Octoplait V shaped Bridle.
The bridle shares the shock load and can also be used to adjust the steering angle to the wave pattern.
Attach the bridle to a long warp to prevent shock loading and to ensure that the drogue remains submerged.
Smaller sized drogues can be trailed one behind the other on the same warp by making them off at different points along the rode using the stainless ring.
Jimmy Green Yacht Drogues also feature a webbing loop at the narrow end of the cone for trip line attachment.
Yacht Drogue Warp and Chain
The set up for each yacht drogue will depend on the expectation for slowing drift and the anticipated conditions in which it may be deployed.
The main principles are:
A long warp comparable with the break load of your bower anchor rode - customers often choose 100 metres
A short length of chain comparable with the break load of your bower anchor rode - customers often choose 5 metres, but just how much weight is required to ensure the right level of submersion is open to debate.
Rated Shackles - comparable with the break load of your bower anchor rode
Jimmy Green Swivel Advisory
A swivel is optional.
Opinions are polarised on whether one is required.
Research into the subject is advisable, so that you can decide who or what to believe.
Practising deployment is also advisable - you can try without a swivel and see if it performs for your individual yacht and set up.
It is a simple enough task to add a swivel if you find that one is required.
Do you need a swivel ?
This largely depends on whether you believe that incorporating a swivel is a help or a hindrance in other yachting applications.
Do you think that a swivel encourages or prevents rotation ?
Generally speaking there are two possible scenarios:
incorporating a swivel may facilitate a degree of rotation to compensate for any twist in the warp and chain and therefore keep the drogue rotationally stable
adding a swivel to the set up may simply encourage rotation resulting in the drogue spinning around needlessly ?
The Jimmy Green Yacht Drogue Size roughly equates to yacht length in metres.
However, this is only a guide and will depend on your individual requirements.
Jimmy Green Yacht Drogue Size Guide and approximate Dimensions

| Drogue | Yacht Length | Mouth Ø | Exit Ø | Length |
| --- | --- | --- | --- | --- |
| Size 6 | 6 metres | 30cm | 8cm | 47cm |
| Size 8 | 8 metres | 38cm | 9cm | 61cm |
| Size 10 | 10 metres | 50cm | 10cm | 80cm |
| Size 12 | 12 metres | 59cm | 12cm | 97cm |
| Size 14 | 14 metres | 72cm | 12cm | 125cm |
Due to the complex nature of the sewing process, all the dimensions are approximate.
Exit Ø = the approximate diameter of the smaller end of the drogue