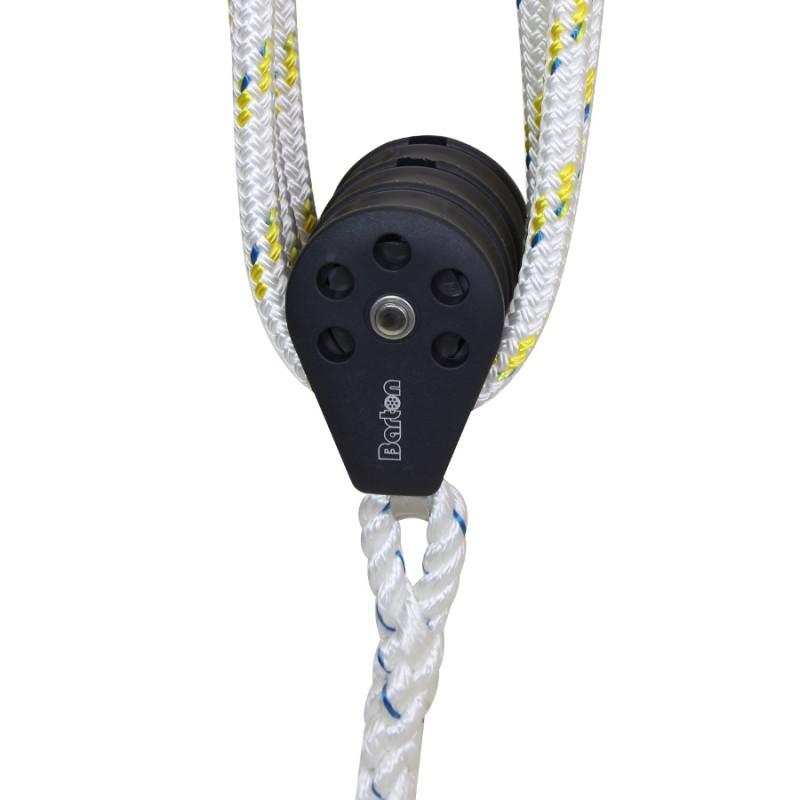 More Information
Accessories
Downloads
Jimmy Green 6:1 Purchase System
All Jimmy Green Purchase System components are selected, measured, cut to length, spliced, whipped and reeved together in house by the Jimmy Green Rigging Team.
These block and tackle systems are produced to order and therefore subject to splicing order lead times.
The Jimmy Green 6:1 purchase system is designed to deliver a significant power advantage for lifting heavy loads onboard by effectively dividing the weight you need to lift by a factor of 6.
Jimmy Green 6:1 Purchase System Facts and Features:
The top triple block features a cam cleat so that the line can be secured after each pull.
Based on a maximum straight lift for a single person of 20kg, this purchase system is not suited for lifting loads > 120kg
Rope Colour: white with yellow coding unless otherwise specified
Jimmy Green block and tackle 6:1 purchase system specification:
25 metres of 8mm LIROS Braid on Braid bright white polyester with yellow code spliced to the becket on a 10mm ball bearing triple block with cam cleat and reeved on to a 10mm ball bearing triple block.
The bottom triple block is spliced to a stainless steel carabine hook with 1 metre of LIROS 8mm 3 strand polyester.
The hook makes for an easy snap on action to secure the load.
Component Parts:
Triple ball bearing blocks: 45mm diameter sheaves, MBL 800kg
Reeved line: LIROS braid on braid EVO polyester, 8mm diameter, MBL 2290kg
One metre tail: LIROS 8mm 3 strand white polyester, 8mm diameter, MBL 1400kg
Stainless steel carabine hook: Makefast 80mm x 8mm, similar hook MBL 400kg
Spliced and reeved by the Jimmy Green Rigging Team
MBL = The break load rating published by the manufacturer or distributor