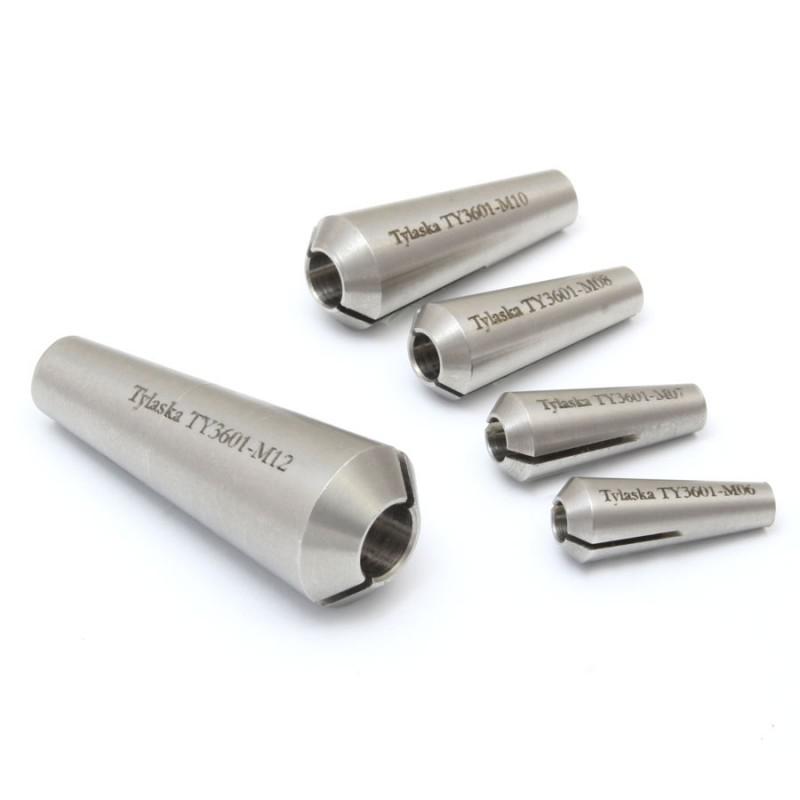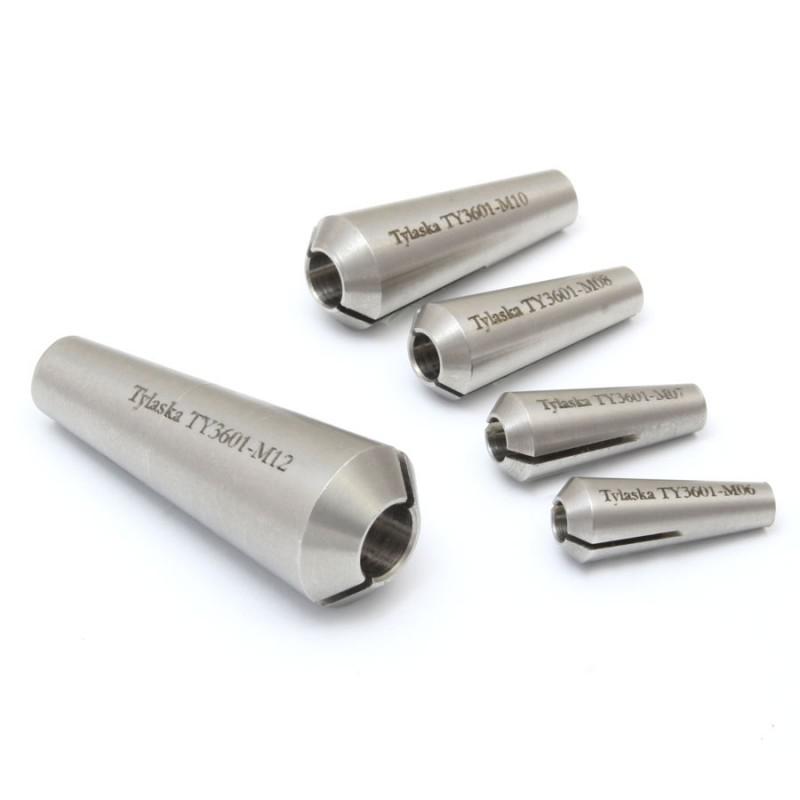 More Information
Norseman compression terminals were a very popular option for terminating wire rigging until production stopped a few years back.
Norseman terminals are re-usable but they do require a new cone when the wire is replaced.
For years the stocks of spare cones have been dwindling worldwide.
Jimmy Green Marine have sourced replacement cones which could save thousands of rigging terminals from the scrap heap.
Developed from the original cone and produced by Tylaska USA, world renowned manufacturers of regatta performance snapshackles and rigging hardware.
PART No
DYFORM
METRIC
IMPERIAL
mm
in.
Max Dia.
Bore
Length
Max Dia.
Bore
Length
TY3602-M05
5
3/16
5.9
3.1
14.8
0.23
0.12
0.58
TY3602-M06
6
-
8.3
3.6
22.3
0.33
0.14
0.88
TY3602-M07
7
9/32
9
4.2
23.9
0.35
0.17
0.94
TY3602-M08
8
5/16
9.9
4.8
28
0.39
0.19
1.10
TY3602-M10
10
-
12.8
6.1
34.3
0.50
0.24
1.35
TY3602-M12
12
-
17.3
7.7
46.8
0.68
0.30
1.84
TY3602-M14
14
9/16
19.3
8.5
47.6
0.76
0.33
1.87
PART No
1x19
METRIC
IMPERIAL
mm
in.
Max Dia.
Bore
Length
Max Dia.
Bore
Length
TY3601-M025
2.5
3/32
4.3
1.6
13.6
0.17
0.06
0.54
TY3601-M03
3
1/8
4.1
2.1
10
0.16
0.08
0.39
TY3601-M04
4
5/32
5.2
2.6
12.5
0.20
0.10
0.49
TY3601-M05
5
3/16
6.5
3.2
16
0.26
0.13
0.63
TY3601-07
-
7/32
9.1
3.6
26
0.36
0.14
1.02
TY3601-M06
6
-
8.7
3.9
22.5
0.34
0.15
0.89
TY3601-08
-
1/4
8.3
4.3
19.9
0.33
0.17
0.78
TY3601-M07
7
9/32
9.4
4.6
23.6
0.37
0.18
0.93
TY3601-M08
8
5/16
10.8
5.3
28
0.43
0.21
1.10
TY3601-12
-
3/8
13.3
6.1
36
0.52
0.24
1.42
TY3601-M10
10
-
13.1
6.3
34.3
0.52
0.25
1.35
TY3601-M11
11
7/16
17.6
7.1
51
0.69
0.28
2.01
TY3601-M12
12
-
17.3
7.7
46.8
0.68
0.30
1.84
TY3601-16
-
1/2
17
8.2
43.8
0.67
0.32
1.72
TY3601-M14
14
9/16
18.9
9.1
49
0.74
0.36
1.93