5mm Guardwires, manufactured from KOS 5mm 1x19 construction 316 bright polished stainless steel wire - Break Load 2000kg
Also available covered in white PVC to 8mm finished diameter for extra protection - Break Load 2000kg
Select the finished length required and suitable terminals for each end.
The Jimmy Green Rigging Team will produce your guardwires with care and attention to detail.
N.B. It will be assumed any adjustable end-fitting will be set at the 2/3 open position.
All measurements are taken from bearing edge to bearing edge.
Please allow a proportional gap of approximately 200mm-300mm (8''-11") if using lanyards at one end.
N.B. Pictures of end-fittings are not to scale - They are illustrative only.
Custom built 5mm 1x19 stainless steel wire rigging is cut, roller swaged and talurit pressed on site by the Jimmy Green Rigging Team using only top quality materials from premium, industry recognised brands and manufacturers.
5mm 1x19 stainless steel wire features:
Exclusively sourced from KOS
Manufactured using 316 marine grade stainless steel to 1.4401.
Min Break Load 2000kg
5mm 1x19 talurit terminations:
Stalok British standard copper ferrules
Stalok and Hamma thimbles
Pressed using a 20 tonne manual talurit press.
5mm 1x19 swage terminations:
All 316 stainless steel
Premium Brands e.g. Stalok, Navtec, BSI, Bluewave, Hamma and Petersen
Swaged using a 3 phase Electrically powered, hydraulic Wireteknik Roller Swager
Bearing Edge to Bearing Edge Measurement: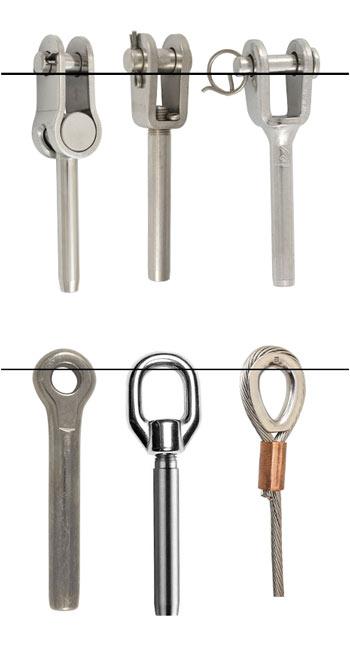 The picture shows examples for the Bearing Edge - The point from which your measurements will be taken.
Measurements on Swaged Studs will be from the extreme end of the thread.
The Jimmy Green Rigging Team aim to produce your rigging within a tolerance of + or - the diameter of the wire.
Glossary
RS = Rigging Screw
1/4 or similar refers to UNF thread size
M6 or similar refers to Metric thread size
RH = right-hand
LH = left-hand
Quality Control
The Jimmy Green Rigging Team undertake to check your wire and terminals meticulously during the production process to ensure that they are 100% First Quality.
The Jimmy Green Despatch Team make a second thorough quality inspection of each item, including a careful check that it matches your order, before packing it into your parcel
Please take extra care when ordering because once a bespoke item has been started (cut) it can neither be cancelled nor returned for a refund.