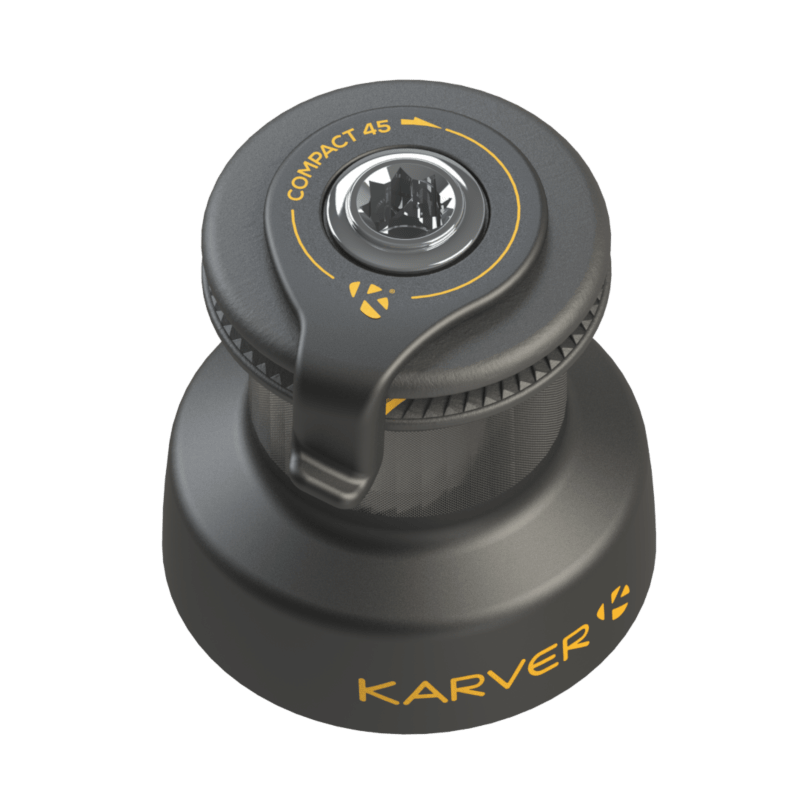 More Information
Features
In first gear, you enjoy a tailing speed twice the speed of a conventional winch, and in second gear, you benefit from the power of a winch 45.
The unique combination of a small size and a workload of 850 Kg makes the Compact an extremely versatile winch.
The Compact winch can replace any winch up to and including size 40 and accepts 8 to 11 mm ropes, providing increased comfort and improved performance.
Features
Ultra Compact (size of a Winch 20)
2 times faster (24 cm per handle round)
Unbeatable weight / power ratio and dimensions / power ratio
Karver Compact Winch Specifications

| Base | Height | Rope Diameter | Weight | Max Load |
| --- | --- | --- | --- | --- |
| 130mm | 142mm | 8-11mm | 3.4kg | 850kg |
| | Speed 1 | Speed 2 |
| --- | --- | --- |
| Power Ratio | 6.05kg | 45kg |
| Tailing Length | 26.4cm | 3.5cm |
Finish - Black Aluminium
Winch Type - Manual
Winch Type - Self Tailing