More Information
Features
Accessories
Mantus Marine USA have designed a range of very strong stainless steel shackles specifically for mooring and anchoring.
Mantus Hex Head Pin Shackle Features:
Forged from marine grade 316 stainless
Flush head snag-free design
Bow shape for articulation
Easy to undo the pin, even after many months of use, with a socket wrench or spanner
Security hole in the hex head is designed for a monel seizing wire to prevent the pin from loosening
Please note - 1/4" SS shackles do not currently have a hex head, but still feature a standard pin design
Mantus Sizing Guide:
Mantus recommend using a mantus swivel for connecting Grade 40 chain to an anchor, to match the break loads.
The chain size specified in the table below represents the smallest chain sizes that the shackle will physically fit. 
Mantus Hex Head Pin Anchor Shackle Break Loads:

| Shackle Size | MBL in lbs | MBL in Kg | Chain Size |
| --- | --- | --- | --- |
| 1/4 inch (6/7mm) |  5,000lb | 2232kg | 7mm (6mm is tight) |
| 5/16 inch (8mm) |  6,500lb | 2901kg | 8mm |
| 3/8 inch (10mm) | 7,500lb | 3348kg | 10mm |
| 7/16 inch | 10000lb | 4464kg | 10mm |
| 1/2 inch (12/13mm) | 15000lb | 6697kg | 12mm |
| 5/8 inch | 20000lb | 8928kg | 14mm (not confirmed) |
MBL = Mantus Marine Published Break Load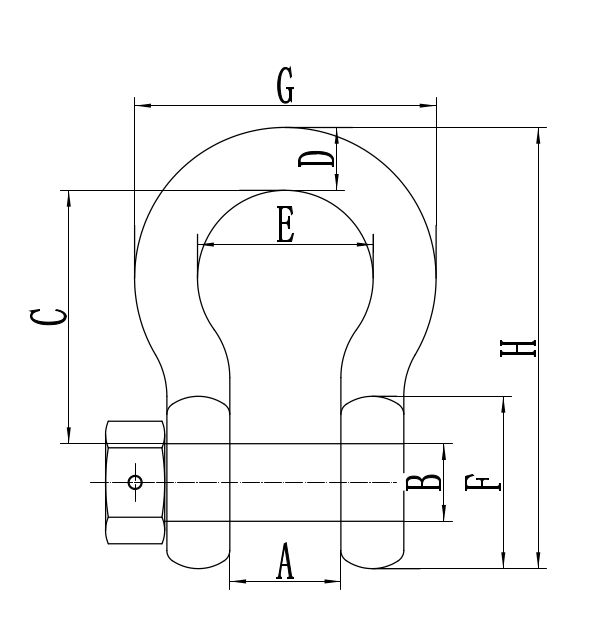 Mantus Hex Head Pin Anchor Shackle Dimensions:

| Shackle Size | A | B | C | D | E | F | G | H |
| --- | --- | --- | --- | --- | --- | --- | --- | --- |
| 1/4 inch | 0.47" | 0.31" | 1.13" | 0.25" | 0.78" | | | |
| 5/16 inch | 0.53" | 0.38" | 1.22" | 0.31" | 0.84" | | | |
| 3/8 inch | 0.66" | 0.44" | 1.44" | 0.38" | 1.03" | | | |
| 7/16 inch | 0.75" | 0.5" | 1.65" | 0.43" | 1.14" | 1" | 1.96" | 2.9" |
| 1/2 inch | 0.85" | 0.62" | 2" | 0.47" | 1.3" | 1.24" | 2.22" | 3.43" |
| 5/8 inch | 1.08" | 0.74" | 2.6" | 0.61" | 1.69" | 1.57" | 2.88" | 4.25" |
Shackle Type - Bow Shackle