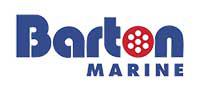 More Information
Accessories
Barton Ball Bearing Blocks feature a unique super-low friction ball race system, comprising acetal sheaves and delrin ball bearings running on a large diameter centre boss.
The Barton ball bearing design fits in more load-bearing balls, and consequently promotes extremely low friction performance, even under high loads.
Barton Ball Bearing Blocks Size 1 Specification:
Maximum rope diameter: 8mm
Sheave Dimensions: 30mm diameter x 12mm width
SWL (Safe Working Load) 355Kg
Manufacturer Break Load 710Kg
Maximum rolling load 245kg
Maximum rolling load on ball bearing blocks is the maximum free running load before ball bearings will distort.
Barton Advisory on Break Loads:
Where break and safe working loads are stated, it is assumed that all sheaves are evenly loaded as in a purchase tackle.
Uneven loading, or loading of one sheave in a double or triple block, will severely affect strength quoted.