More Information
Features
Accessories
Petersen Hi Mod Stainless Steel Shackles are upset forged from top quality marine grade 316 stainless steel
Petersen have a long history of producing top quality stainless steel products
Petersen Stainless Rigging have been forging stainless steel shackles for over 100 years.
Petersen have full control of the entire shackle manufacturing process beginning by sourcing the highest quality European stainless steel drawn bar stock.
Drawn stainless bar is chosen because it gives the best and strongest grain structure.
All Petersen stainless steel shackles are upset forged rather than drop forged to keep the grain flowing around the shackle head rather than splintering it.
The resulting, long, as-drawn grain structure delivers a superior breaking strain and excellent fatigue and corrosion resistance.
N.B. Forged stainless steel shackles are inherently stronger than cast ones as they make use of grain structure from the drawing process employed to produce the blanks.
Electrical upset forging takes it one stage further by ensuring the grain flows around the shackle head to give maximum strength and also by obviating the need for any more cold-work which results in improved fatigue and corrosion resistance.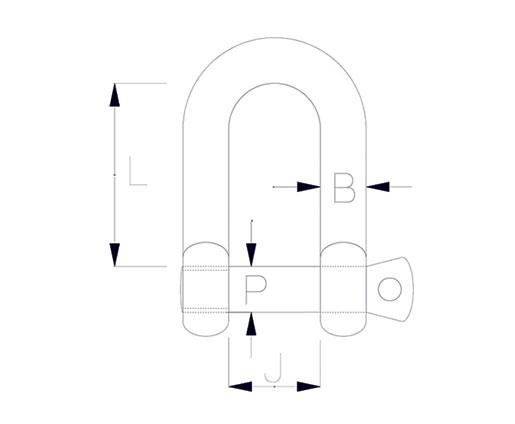 D Shackle Technical Specifications:

| Part Number | Pin Diameter (P mm)  | Bar Diameter (B mm) | Jaw Width (J mm) | Inside Length (L mm) | Break Load (kg) * | Nominal Weight (g) |
| --- | --- | --- | --- | --- | --- | --- |
| D04C | 4 | 4 | 8 | 16 | 800 | 7 |
| D05C | 5 | 5 | 10 | 20 | 1500 | 13 |
| D06C | 6 | 6 | 13 | 25 | 1950 | 24 |
| D08C | 8 | 8 | 16 | 32 | 3000 | 53 |
| D10C | 9.5 | 9.5 | 19 | 38 | 4800 | 97 |
| D11C | 11 | 11 | 22 | 44 | 6000 | 152 |
| D12C | 12.7 | 12.7 | 26 | 52 | 7500 | 237 |
| D16C | 16 | 14.3 | 29 | 58 | 10000 | 450 |
| D19C | 19 | 16 | 32 | 64 | 14000 | 585 |
N.B. Petersen stainless shackles are rated by Petersen to a * Typical Minimum Break Load but are not supplied witha test certificate
Shackle Type - Socket Pin
Shackle Type - D Shackle