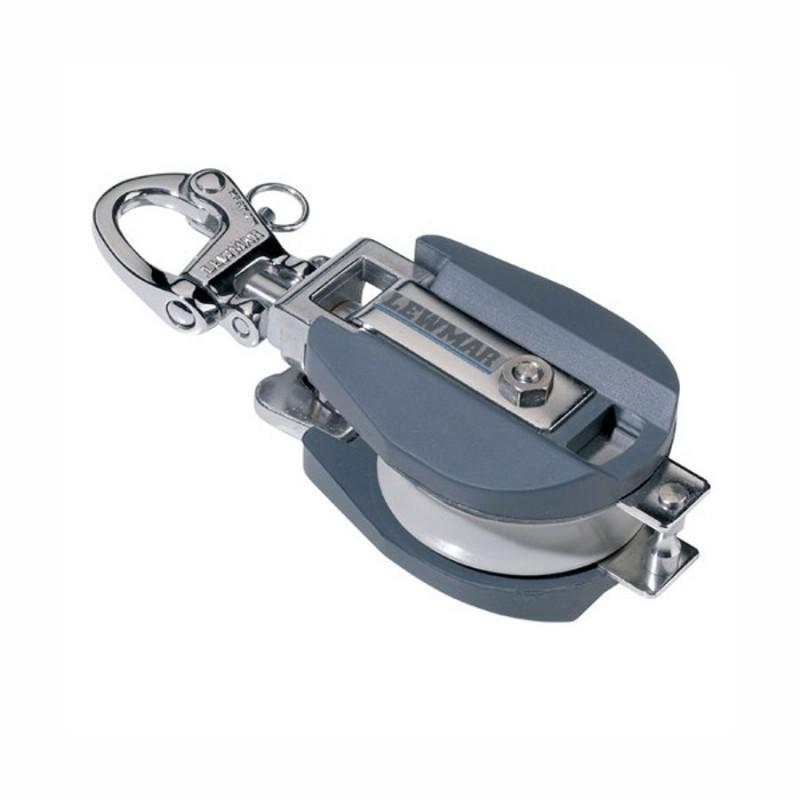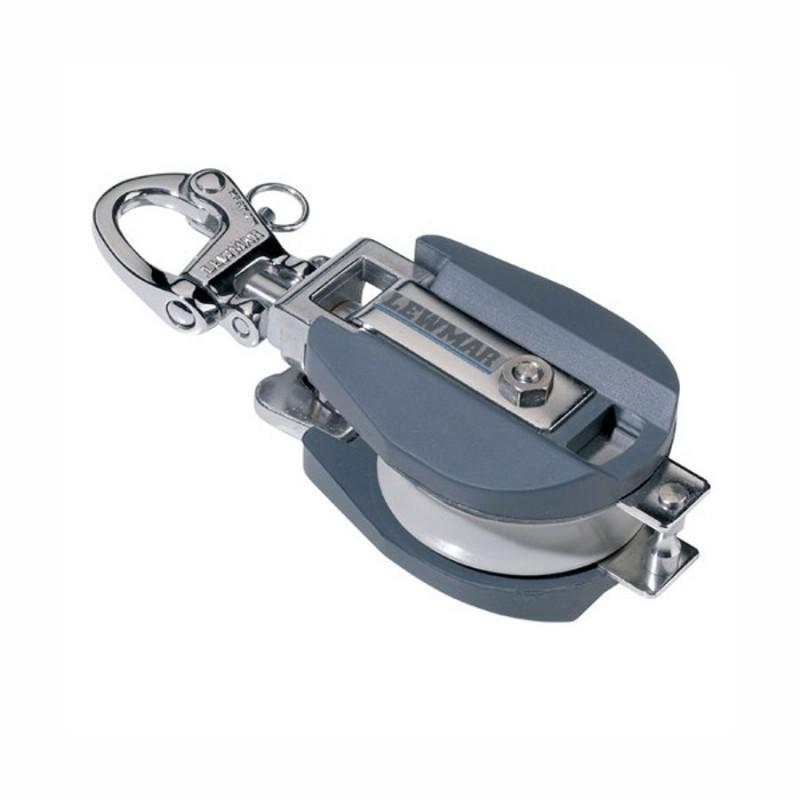 More Information
Lewmar are world renowned for the manufacturing and design excellence of their yacht hardware.
Lewmar have decades of experience and involvement with the highest levels of superyacht and yacht racing development to help create a robust, top performance, ergonomic cruising equipment portfolio.
Lewmar's aim is to make sail handling easier for every kind of yachtsman.
The Lewmar Ocean range of Snatch Blocks has been well proven over many seasons of rugged, hard-working, racing and extended cruising.
Lewmar Snatch Block Features:
Available in 3 sizes, see chart below
Lewmar snap shackle head for quick attachment, detachment and changing of position.
N.B. where the attachment strongpoint does not permit full articulation, e.g. a toe rail with a problematic profile, an interim shackle/soft shackle must be used to ensure the load is taken at the correct angle.
Swivel Head for self adjusting alignment
Secure ergonomic side opening and closing for quick and easy line insertion
Hard wearing synthetic rubber cheeks are also sympathetic in contact with the deck and other deck fittings
Marine grade stainless steel cheek straps
Marine grade stainless steel aperture mechanism
Marine grade stainless steel becket - useful for 1. stretching shock cord to the guardrail to prevent contact with the deck when not in use and 2. starting a secondary purchase system
Size 1 and 2 - marine grade stainless steel plain bearing sheave pin
Size 3 – Delrin roller bearing on marine grade stainless steel sheave pin
Ideal for general spinnaker use
Important Lewmar Advisory
Lewmar state that these blocks are designed for line handling on sail boats only
| Lewmar Part Number | Size Option | BearingType | Sheave Material | SheaveDiameter | Sheath Width | SWL | MBL | Weight | Line Diameter |
| --- | --- | --- | --- | --- | --- | --- | --- | --- | --- |
| L19810600 | Size 1 | S/S Plain | Delrin | 66mm | 20mm | 1135kg | 2270kg | 480g | 14mm |
| L19820600 | Size 2 | S/S Plain | Deltin | 80mm | 20mm | 1590kg | 3180kg | 880g | 16mm |
| L19830500 | Size 3 | Needle Roller | Aluminium | 80mm | 20mm | 2155kg | 4310kg | 1040g | 16mm |
Delrin is the common name used to describe the complex composite: polyoxymethylene (POM) acetal plastic.
SWL = Safe Working Load where the safety factor is approximately 2:1
MBL = Manufacturer (Lewmar) Break Load
Delrin Properties:
Good mechanical strength and rigidity
Extremely tough under load, effectively squash resistant
Tolerant to repeated impact
Excellent endurance against fatigue under continuous pressure
Superb resistance to petroleum based solvents, moisture and other neutral chemicals.
Good electrical insulating properties
Self-lubricating
Normally pure white, but sometimes available with integral pigment in off white, yellowy white, yellow, orange, blue, brown black or grey with no other difference in substance or performance
Non-floating