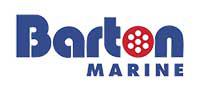 More Information
The Barton single shackle traveller cars are ideal for use in 2:1 and 4:1 purchase traveller systems and can also be adapted with a becket for 3:1 systems.
Simply add a pair of sheave cages to adapt for 4:1.
They are available in 3 sizes.
Not suitable for mid-boom sheeting, severely angled take-offs and curved tracks which can impose greater loads on the car.
Choose the double take off for these applications.
For high load applications, Torlon ball packs can be purchased for replacing the standard Delrin balls.
Please enquire about Size 3 before purchase as special terms and conditions may apply.