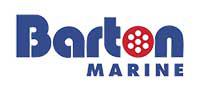 More Information
The Barton removable mainsheet track system is available as a complete kit.
The size 1 is suitable for vessels up to c 8.5m.
The size 2 is suitable for yachts up to c 11m.
Both track system kits are supplied with 1 metre of beam track to span the cockpit
The bulhead end fittings make the set-ups easily removable to keep your cockpit space free of obstruction when you want to relax on board.
A removable mainsheet track is the perfect solution for converting a coach roof mainsheet sheeting system to one that is within reach of the helmsman, affording safer and more convenient sail control.
The Barton kit is supplied with all the components required to make a 4:1 purchase system with cleats on the car.
1 metre Barton beam track 
1 x traveller car
2 x adjustable end fittings
2 x bulhead location fittings
Fixings are NOT included.
Barton Removable Mainsail Beam Track Facts, Features and Plus Factors:
Designed to span between the cockpit seats
Removes in seconds
Open up your cockpit when not in use
Ergonomically shaped and low profile design to maximise cockpit space
Allowing you to incorporate Mainsheet track system for shorthanded sailing
Jimmy Green Advisory
If you wish to span a greater width than specified in the table below then you will need an additional support.
| Barton Beam Track | Width | Height | Width 2 | Maximum Unsupported Length |
| --- | --- | --- | --- | --- |
| Size 1 | 20mm | 27mm | 26mm | 400mm |
| Size 2 | 26mm | 34.5mm | 34mm | 700mm |
Further details of this advisory and how to ensure that the track will not bend under load is available on the Barton website.
Barton Fitting Guidance:
Bolt the end plates to the cockpit wall bulkhead either side of the cockpit.
Slide the track under these plates and lift vertically.
The track locks it in position automatically.
To remove the mainsheet track, push in the locking pin on either side, lower the track and slide it out of the way.