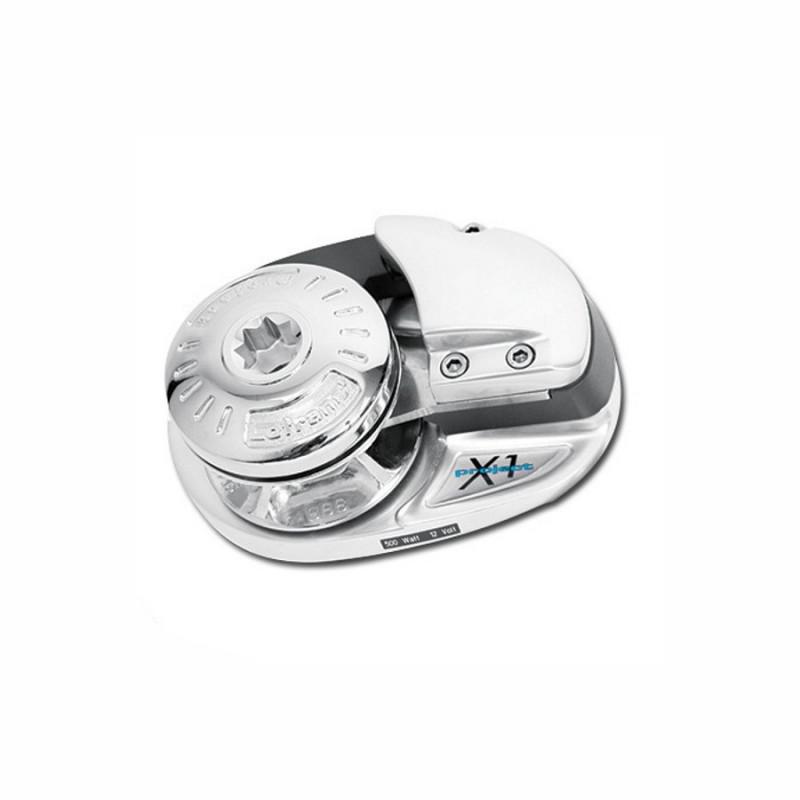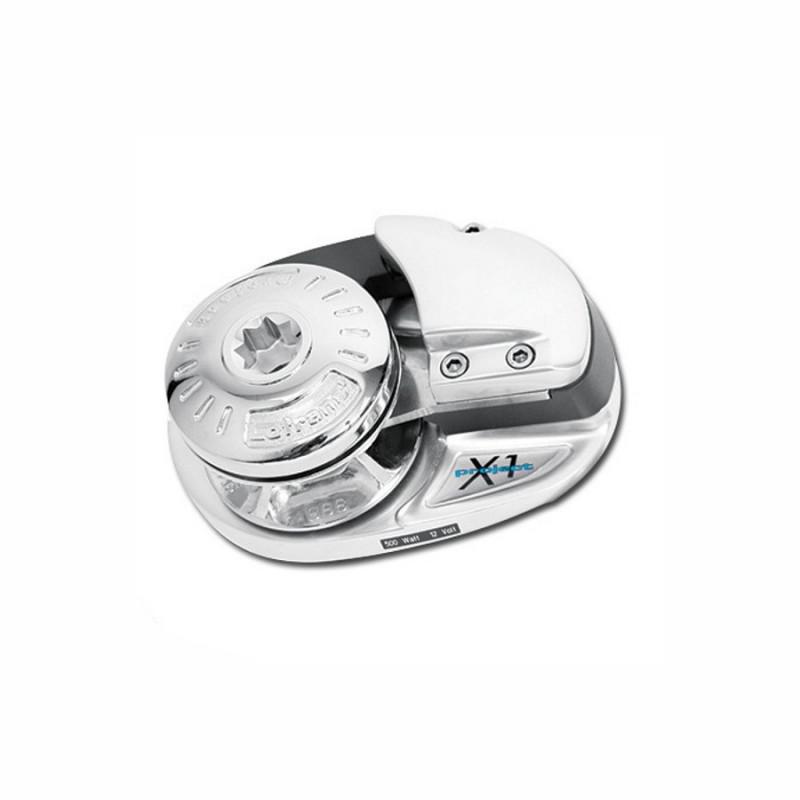 Lofrans X1 Vertical Windlass
LFR-409557
Lofrans Boat Length Guide: 20 - 40 feet
Combination Chain/Rope Gypsy
Aluminium (500W only) or Chrome Bronze finish
3-year warranty subject to registration
More Information
Features
Accessories
Downloads
The Lofrans X1 windlass has a vertical drive shaft for the gypsy, which results in a compact deck unit with the motor and gearbox housed under the deck in the chain locker.
Lofrans approximate Boat Length Guide:
500W 20-30 feet
800W 25-35 feet
1000W 30-40 feet
Lofrans X1 Main Features and Plus Factors:
Mirror polished, extremely weather resistant chrome bronze finish produced by drop forging process
Low Profile or with Drum
Independently operated rope drum
Manual chain release
Rope/chain combination gypsy, size options: 6mm DIN766 and 10/12mm 3strand rope or 8mm DIN766 and 12mm 3strand rope
Rope/chain function managed by the spring-loaded finger (arm)
Factory pre-installed chain counter sensor/magnet
Lofrans-engineered heavy-duty IP67 rated electric motor, 12V with 500W, 700W or 1000W options
Multiple choice gearbox orientation installation, see photo
Weatherproof, marine grade, anodised aluminium alloy motor and gearbox housing
Three-year Manufacturer Warranty
Built-in Control Box
Design requirement - minimum 300mm depth between the underside of the deck and the top of any stowed chain
6mm gypsy/500W motor available in anodised aluminium alloy casing
6mm gypsy not available with 1000 watt motor
Lofrans X1 Windlass Chain Compatibility

| | 500W | 800W | 1000W |
| --- | --- | --- | --- |
| 6mm Chain | ✔ | ✔ | X |
| 8mm Chain | ✔ | ✔ | ✔ |
N.B. 6mm DIN766 chain gypsy is compatible with 10mm or 12mm 3 strand rope, 8mm DIN766 chain gypsy with 12mm 3 strand rope.
Lofrans X1 Windlass Specifications

| | Aluminium | Chromed Bronze | Chromed Bronze | Chromed Bronze |
| --- | --- | --- | --- | --- |
| Motor Size | 500W | 500W | 800W | 1000W |
| Power Supply | 12V | 12V | 12V | 12V |
| Maximum Pull | 630kg | 630kg | 700kg | 900kg |
| Working Load | 70kg | 70kg | 80kg | 120kg |
| Amps at Working Load | 75A | 75A | 80A | 120A |
| Working Load Speed | 23m/min | 23m/min | 25m/min | 18m/min |
| Maximum Line Speed | 26m/min | 26m/min | 28m/min | 30m/min |
| Net Weight (Low Profile) | 10kg | 11kg | 13kg | 16kg |
| Net Weight (with Drum) | 11kg | 12kg | 14kg | 17kg |
The Lofrans Vertical X Range = X1, X2, X3, X3.5, X4 and X5 all feature as standard:
Watertight stainless steel ball bearings in the base for maintenance-free, reliable performance
Technologically Advanced Clutch Design manufactured from two conical discs fitted onto the main shaft by two flat parallel planes - avoids the use of keys and spreads the load more evenly
Factory-fitted sensor in the base together with a magnet in the gypsy enables an external chain counter option.
Models X1, X2 and X3 have a rope/chain combination gypsy
Independently operated rope drum for warping (with drum only)
Manual override - the spring-loaded ratchet fitted in the gearbox has two main functions

enables the windlass to recover the chain and anchor in the event of electrical failure
provides a safety mechanism so that chain jams do not damage the deck

Models X2 and X3 are available with Mirror Polished Stainless steel AISI 316L casing as a special order upgrade
X1 - included in the box with the windlass unit: manual winch handle, dual-direction solenoid (= built-in control box), drilling template, fixing screws and a CD manual.
Not included in the box: circuit breaker, switches or chain counters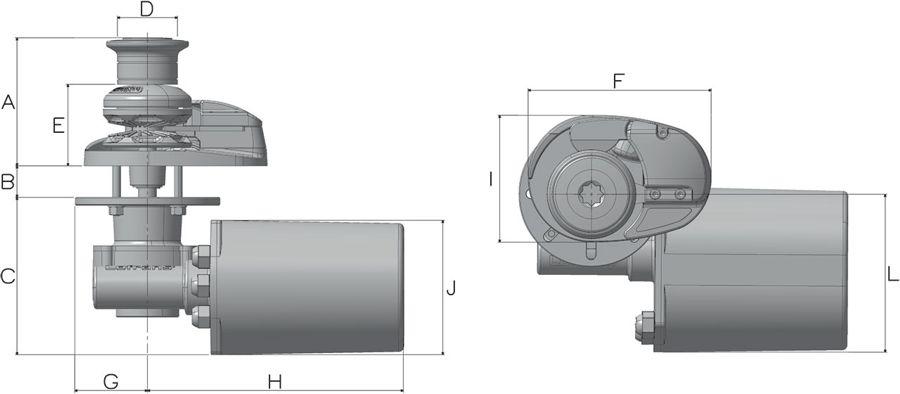 Lofrans X1 Windlass Dimensions

| X1 | A | B | C | D | E* | F | G | H | I | J | L |
| --- | --- | --- | --- | --- | --- | --- | --- | --- | --- | --- | --- |
| 500W / 800W | 130mm | 10-30mm | 111mm | Ø60mm | 84mm | 183mm | 56mm | 236mm | 127mm | 105mm | 132mm |
| 1000W | 130mm | 10-30mm | 150mm | Ø60mm | 84mm | 183mm | 62mm | 256mm | 127mm | 134mm | 165mm |
E* also = Low profile height dimension
X1 = All 12V power supply
For 500 watt Motor, use 35 amp
For 800 watt Motor, use 70 amp
For 1000 watt Motor, use 100 amp
LOFRANS 3 YEAR MANUFACTURER WARRANTY REGISTRATION FORM
For Lofrans Specification, including links to the Exploded Parts Diagram Lofrans X1 Information Download
Chain Size - 8mm
Chain Size - 10mm
Boat Length (Windlasses) - up to 25 feet
Boat Length (Windlasses) - up to 30 feet
Boat Length (Windlasses) - up to 35 feet
Boat Length (Windlasses) - up to 40 feet
Boat Length (Windlasses) - up to 20 feet
Horizontal or Vertical - Vertical