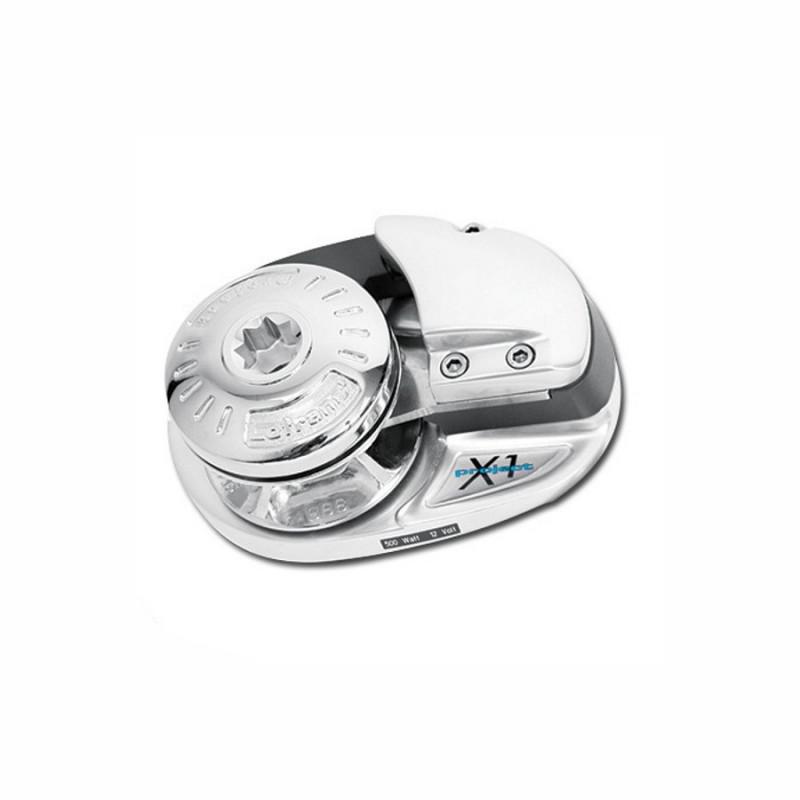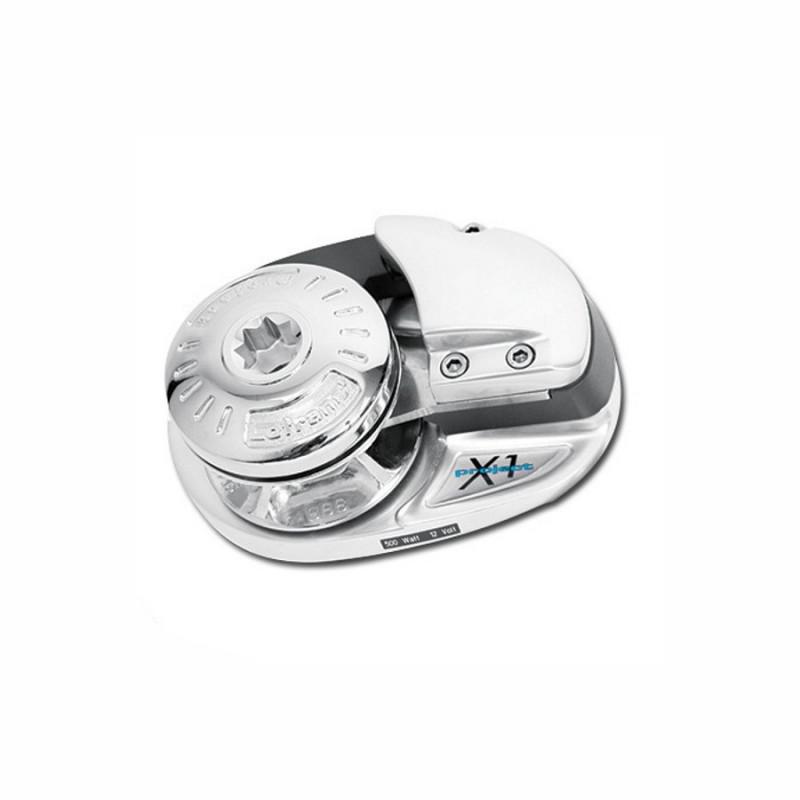 More Information
Features
Accessories
Downloads
The Lofrans X1 windlass has a vertical drive shaft for the gypsy which results in a compact deck unit with the motor and gear box housed under the deck in the chain locker.
Lofrans approximate Boat Length Guide:
500W 20-30 feet
800W 25-35 feet
1000W 30-40 feet
Lofrans X1 Main Features and Plus Factors:
Mirror polished, extremely weather resistant chrome bronze finish produced by drop forging process
Low Profile or with Drum
Independently operated rope drum
Manual chain release
Rope/chain combination gypsy, size options: 6mm DIN766 and 10/12mm 3strand rope or 8mm DIN766 and 12mm 3strand rope
Rope/chain function managed by the spring-loaded finger (arm)
Factory pre-installed chain counter sensor/magnet
Lofrans-engineered heavy duty IP67 rated electric motor, 12V with 500W, 700W or 1000W options
Weatherproof, marine grade, anodised aluminium alloy motor and gearbox housing
3 year Manufacturer Warranty
Built in Control Box
Design requirement - minimum 300mm depth between under side of the deck and the top of any stowed chain
6mm gypsy/500W motor available in anodised aluminium alloy casing
6mm gypsy not available with 1000 watt motor
Lofrans X1 Windlass Chain Compatibility

| | 500W | 800W | 1000W |
| --- | --- | --- | --- |
| 6mm Chain | ✔ | ✔ | X |
| 8mm Chain | ✔ | ✔ | ✔ |
N.B. 6mm DIN766 chain gypsy is compatible with 10mm or 12mm 3 strand rope, 8mm DIN766 chain gypsy with 12mm 3 strand rope.
Lofrans X1 Windlass Specifications

| | Aluminium | Chromed Bronze | Chromed Bronze | Chromed Bronze |
| --- | --- | --- | --- | --- |
| Motor Size | 500W | 500W | 800W | 1000W |
| Power Supply | 12V | 12V | 12V | 12V |
| Maximum Pull | 630kg | 630kg | 700kg | 900kg |
| Working Load | 70kg | 70kg | 80kg | 120kg |
| Amps at Working Load | 75A | 75A | 80A | 120A |
| Working Load Speed | 23m/min | 23m/min | 25m/min | 18m/min |
| Maximum Line Speed | 26m/min | 26m/min | 28m/min | 30m/min |
| Net Weight (Low Profile) | 10kg | 11kg | 13kg | 16kg |
| Net Weight (with Drum) | 11kg | 12kg | 14kg | 17kg |
The Lofrans Vertical X Range = X1, X2, X3, X3.5, X4 and X5 all feature as standard:
Watertight stainless steel ball bearings in the base for maintenance free reliable performance
Clever Clutch Design manufactured from two conical discs fitted on to the main shaft by two flat parallel planes which avoids the use of keys and spreads the load more evenly
Factory fitted sensor in the base together with a magnet in the gypsy enables an external chain counter option.
Models X1, X2 and X3 have a rope/chain combination gypsy
Independently operated rope drum for warping (with drum only)
Manual override - the spring loaded ratchet fitted in the gearbox has two main functions

enables the windlass to recover the chain and anchor in the event of electrical failure
provides a safety mechanism so that chain jams do not damage the deck

Models X2 and X3 are available with Mirror Polished Stainless steel AISI 316L casing as a special order upgrade
X1, included in the box with the windlass unit: manual winch handle, dual direction solenoid (= built in control box), drilling template, fixing screws and a CD manual
Not included in the box: circuit breaker, switches or chain counters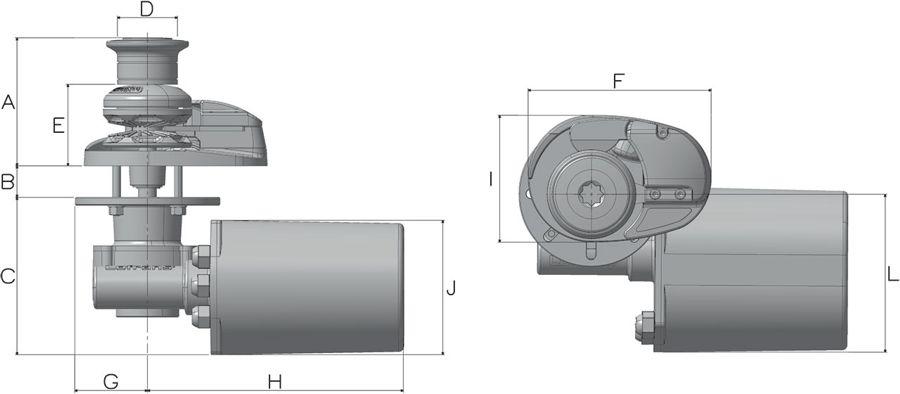 Lofrans X1 Windlass Dimentions

| X1 | A | B | C | D | E* | F | G | H | I | J | L |
| --- | --- | --- | --- | --- | --- | --- | --- | --- | --- | --- | --- |
| 500W / 800W | 130mm | 10-30mm | 111mm | Ø60mm | 84mm | 183mm | 56mm | 236mm | 127mm | 105mm | 132mm |
| 1000W | 130mm | 10-30mm | 150mm | Ø60mm | 84mm | 183mm | 62mm | 256mm | 127mm | 134mm | 165mm |
E* also = Low profile height dimension
X1 = All 12V power supply
500 watt Motor use 35 amp
800 watt Motor use 70 amp
1000 watt Motor use 100 amp
LOFRANS 3 YEAR MANUFACTURER WARRANTY REGISTRATION FORM
For Lofrans Specification including links to the Exploded Parts Diagram Lofrans X1 Information Download
Chain Size - 8mm
Chain Size - 10mm
Boat Size (Windlasses) - up to 35 feet
Boat Size (Windlasses) - up to 40 feet
Boat Size (Windlasses) - up to 20 feet
Boat Size (Windlasses) - up to 25 feet
Boat Size (Windlasses) - up to 30 feet
Windlass Type - Vertical