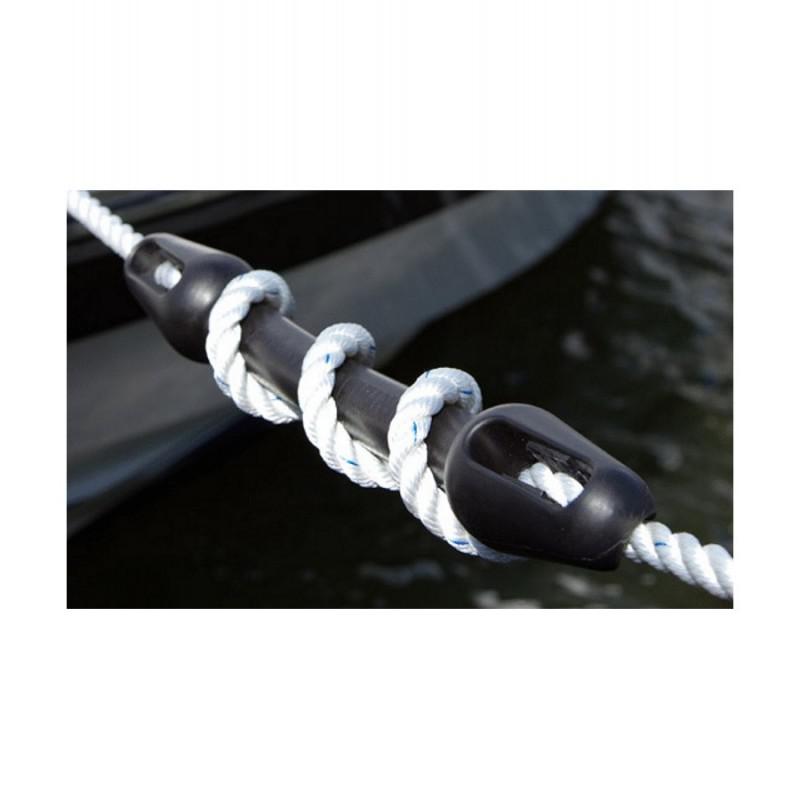 Unimer Mooring Compensators
MEZ-40670

Superb shock absorbing properties
Long lasting elasticity
Manufactured in Sweden by Unimer
Reduce snatch loads on your ropes
Unique integral black nylon locking jamming cleats
Requires fitting before splicing
More Information
Unimer Mooring Compensators provide long lasting shock absorption on deck fittings and mooring/anchor lines.
Unimer Mooring Compensators have a special (protected) design feature which makes them stand out from the competition.
Unimer Mooring Compensator Unique Design Feature:
Cleat shaped black polyamide self locking jamming mechanism fitted into each end of the compensator.
The cleat effect prevents rope movement in the compensator which greatly reduces wear and tear abrasion on the line.
Please note that Unimer mooring compensators come with a little instruction leaflet that includes their cautious limitation on the length of yacht.
It is advisable to read our article to give their recommendations some context. MOORING COMPENSATOR ADVISORY
The Unimer recommendations are listed below:
Size 1 : Boats up to 6m
Size 2 : Boats up to 8m
Size 3 : Boats up to 12m
Size 4 : No Size recommendation
Available in 4 sizes to suit lines from 10mm to 20mm
| Size | Rope Diameter | Length | Unimer |
| --- | --- | --- | --- |
| 1 | 10-12mm | 332mm | 81061OU |
| 2 | 12-16mm | 416mm | 81061OU |
| 3 | 14-18mm | 520mm | 81061OU |
| 4 | 20-22mm | 600mm | 81061OU |