More Information
Features
Accessories
Van Beest Green Pin Shackles have hot-dip galvanised bodies and zinc plated pins.
The pins are electro zinc plated before the green coating is applied.
This preparation is very effective against rust, but not as long lasting as the hot dip galvanising on the shackle body.
Green Pin Shackles feature a hot dip galvanised body and a zinc plated pin. The pin is zinc plated to make it easier to paint with the Van Beest trademark Green colour.
Green pin certified shackles are much stronger than standard galvanised shackles due to a narrower jaw width and thicker pin diameter
Green pin certified shackles are manufactured and tested in the Netherlands by Van Beest to EN13889 with a 6:1 safety factor
Jimmy Green Marine have improved the corrosion resistance of the pin by having them stripped and hot dip galvanised at a reputable UK galvaniser.
The green pins are stripped of their original surface treatment in an acid bath and hot dip galvanised.
Hot Dip Galvanising is the process of treating iron or steel by immersion in molten zinc at a temperature of around  450 °C (842 °F).
The zinc chemically reacts with the steel to form a metallurgically bonded protective coating which is infused into the steel i.e. it is not just a surface finish that can flake off.
The dimensions and weight of these shackles remain the same as their Green Pin equivalents.
However, although the galvanising treatment of the pin does not have a detrimental effect on the strength of the shackles, they have nevertheless been altered from their original form and can therefore only be supplied with a Jimmy Green Certificate of Conformity rather than one from the manufacturer.
| Item | Estimated Working Load Limit | Suggested Safety Factor | Chain Size |
| --- | --- | --- | --- |
| 7mm Bow and D  | 0.5 ton | 6:1 | 7mm |
| 9mm Bow and D | 0.75 ton | 6:1 | 8mm |
| 10mm Bow and D | 1 ton | 6:1 | 10mm |
| 11mm Bow and D | 1.5 ton | 6:1 | 10/12mm |
| 13mm Bow and D | 2 ton | 6:1 | 13/14mm |
| 16mm Bow and D | 3.25 ton | 6:1 | Ground |
| 19mm Bow and D | 4.75 ton | 6:1 | Ground |
Bow Shackle Dimensions

| Item (A) | Pin Dia (B) | Jaw width (C) | Internal (D) | Chain Size |
| --- | --- | --- | --- | --- |
| 7mm Bow | 8mm | 12mm | 29mm | 7mm |
| 9mm Bow | 10mm | 13.5mm | 31mm | 8mm |
| 10mm Bow | 11mm | 17mm | 37mm | 10mm |
| 11mm Bow | 13mm | 19mm | 43mm | 10/12mm |
| 13mm Bow | 16mm | 22mm | 50mm | 13/14mm |
| 16mm Bow | 19mm | 27mm | 63mm | Ground |
| 19mm Bow | 22mm | 31mm | 77mm | Ground |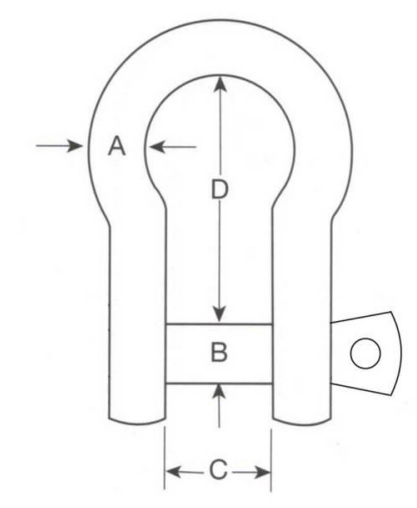 This chart may be useful for checking whether the shackle will pass through a confined space e.g. a narrow stemhead roller
| BOW Shackle | Outside Width |
| --- | --- |
| 7mm Bow | 39mm |
| 9mm Bow | 47mm |
| 10mm Bow | 55mm |
| 11mm Bow | 60mm |
| 13mm Bow | 74mm |
| 16mm Bow | 89mm |
| 19mm Bow | 102mm |
Outside Width = overall width including the protruding lug of the shackle pin
Shackle Type - Bow Shackle