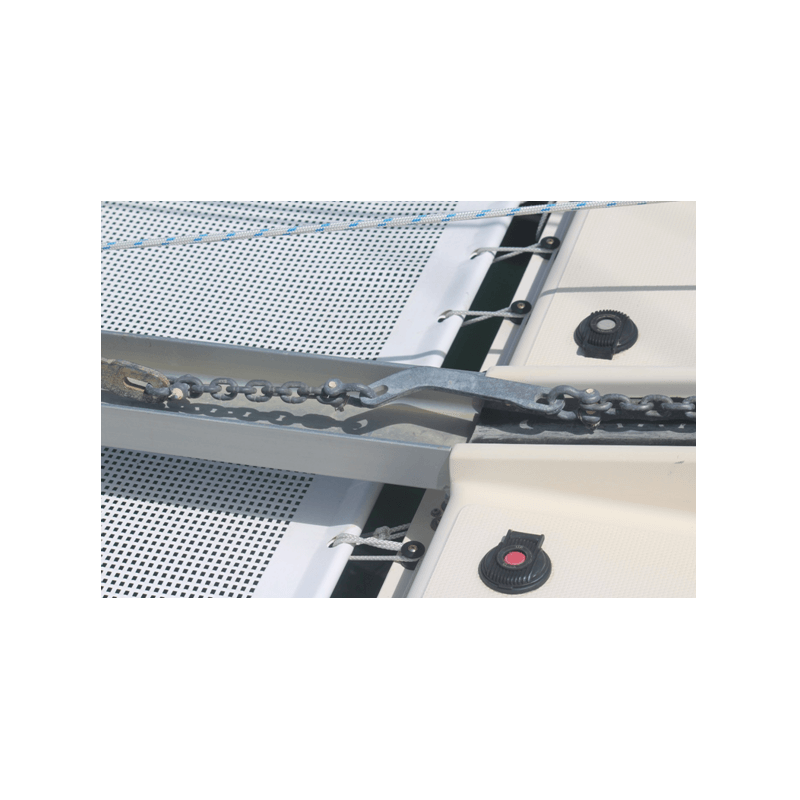 More Information
Features
Anchor Right Flip Link
Rex Francis has developed a simple galvanised link to flip the anchor into the correct orientation when it arrives at the bow roller the wrong way around.
Without a successful method of flipping the anchor into the right alignment for entry over the bow roller and onto the deck, anchors can cause damage to the hull and, even worse, get jammed in a very awkward position.
The Flip Link should be installed between the anchor and the anchor chain, and as shown in the Anchor Right photos, a short length of chain can be inserted to create the correct distance between the link and the anchor.
The pictures show 10 links which are available to purchase: 10 LINKS OF CHAIN
Anchor Right Flip Link Facts, Features and Plus Factors:
Simple solution
Easy to fit
Stronger than Grade 40 chain – size for size
Hot Dip Galvanising finish
Compatible with tested galvanised bow shackles
Anchor Right Flip Link Dimensions
Size
Thickness
A
B
C
D
Shackle Eye
L
W
8
8mm
250mm
75mm
36mm
30mm
26mm
15.5mm
10
10mm
260mm
80mm
45.5mm
35mm
33mm
17.5mm
12
12mm 
294mm
90mm
51mm
40mm
37mm
20mm
16
16mm
331mm
102mm
58mm
45mm
42mm
22mm
Anchor Right Flip Link Fitting and User Instructions
The chain links should be installed so that the Flip Link is upright and in line with the anchor stock, as per the Anchor Right photos.
The minimum number of chain links you can use is two.
The more links that you insert between the Flip Link and the anchor, the less aggressive the flip of the anchor will be when it rights itself.
Anchor Right Recommendations
Bow rather than Dee shackles should always be used for attaching the chain links to the anchor.
Tested shackles of reliable provenance that are stronger than the anchor chain are recommended.
Please note that the photos are for illustrative purposes only - although the shackles have not been wired, it is the recommended practice.
Chain Size - 8mm
Chain Size - 10mm
Chain Size - 12mm