The Ultra Marine Flip Swivel is a superb piece of marine design and engineering culminating in a one piece anchor connector solution which means that no additional shackles are required.
Included in the Box:
Flip Swivel, Hook Brake, appropriate size allen keys, thread locker
Ultra Flip Swivel Specification:
Manufactured from 316 stainless steel by Ultra Marine Anchors in the Czech Republic
Manufacturer 3 year warranty
Individually stamped on the body with the manufacturer break load
Designed so that the breaking strain exceeds that of a typical anchor chain of the same size
Allows 360 degree swivelling and also 30 degrees of articulation
One piece body with a flipping nub which ensures the anchor is always retrieved in the correct plane.
Hexagonal head locking bolt - does not require any further security measures
Ultra Flip Swivel Facts, Features and Plus Factors:
One Piece Solution: The fabricated (not cast) one piece body and head (with integral spherical ball) ensures maximum strength
Universal - suitable for most anchor designs, not just the Ultra anchor
Semi Spherical Ball: Self cleaning and allows 360 degree rotation
Hexagonal Head Bolts: Ensures locking bolt is 100% secure and cannot release accidentally - allen keys for other end supplied
TELFON* O-Ring: the internal ring stops metal friction occurring when under load, providing low resistance and smooth operation
Flipping Nub: If the anchor is recovered upside down, the flip nub will assist the anchor to correctly right itself onto the roller
Rounded Corners: prevents potential damage to the deck or injury to the crew
Throat Opening: The aperture is specifically designed to fit the chain size.
Specifications: The swivel chain size and the breaking strength is recorded on the rear side of the swivel
Warranty: All ULTRA Swivels are supplied with a standard three year warranty
Ultra Flip Swivel = RINA certified
Utra Flip Swivel Selection Guide
The slim profile provides an excellent solution for unfettered access through narrow stemheads and/or bow rollers.
| Ultra Flip Swivel | UFS 6 | UFS 8 | UFS 10 | UFS 13 | UFS 16 |
| --- | --- | --- | --- | --- | --- |
| Diameter at the widest point | 35mm | 40mm | 45mm | 55mm | 65mm |
| Ultra Flip Swivel | Chain Size | MBL | Maximum Anchor Weight |
| --- | --- | --- | --- |
| UFS6-12 | 6mm | 3315kg | 12kg |
| UFS8-21 | 6 and 8mm | 5630kg | 21kg |
| UFS10-35 | 8 and 10mm | 8540kg | 35kg |
| UFS13-60 | 10, 12 and 13mm | 17510kg | 60kg |
| UFS16-100 | 13, 14 and 16mm | 28950kg | 100kg |
MBL
= Manufacturer Break Load
Ultra Flip Swivel - Extra Strength Pin Design
Ultra employ a larger pin than usual and adapt it to fit though the end link of your anchor chain for maximum tensile load performance.
The pin starts off larger than usual, but has machined flat sides to allow it to fit lengthways in the end link of the chain, see picture and chart below.
The pin is fixed in the swivel in the correct orientation to take the load.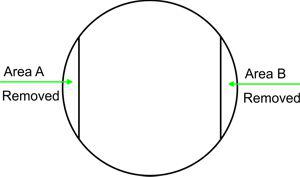 | Ultra Swivel | Chain Size | Original diameter | Machined Width |
| --- | --- | --- | --- |
| UFS8-21 | 7mm and 8mm | 9mm | 7mm |
| UFS10-35 | 8mm and 10mm | 11mm | 9mm |
| UFS13-60 | 10/12/13mm | 14.5mm | 11mm |
| UFS16-100 | 13/14/16mm | 18mm | 14.5mm |
N.B. these dimensions are approximate