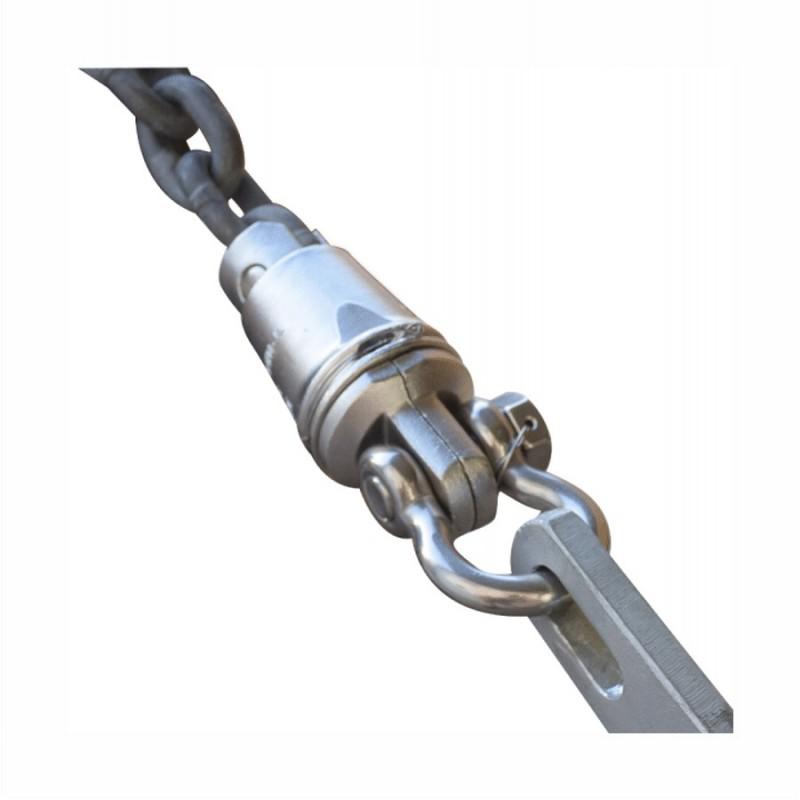 More Information
Features
Accessories
Downloads
Mantus Marine USA have designed and developed an outstanding swivel for securely joining a chain and anchor together employing their customary attention to detail combined with world renowned engineering and manufacturing excellence.
The Mantus design team have carried out extensive computer modelling and exhaustive physical testing to produce the ultimate strength swivelling joint to connect your anchor to the end link of your anchor chain.
The weakest part of any anchor connector is generally the pin that fits onto the chain because the diameter is restricted by the inside dimensions of the link. Mantus have addressed this with an innovative oblong shaped pin which increases the depth of the pin and subsequently the load bearing capacity.
Mantus Swivel Anchor Connector Facts, Features and Plus Factors:
Manufactured from 316L Stainless Steel
Precision cast and electro-polished stainless body
Mechanically and electro-polished Duplex stainless pin
Stronger than the equivalent size Grade 40 chain
Suitable solution for high strength Grade 70 acnhor chain
Integrated shackle design completely eliminates any issues with lateral/awkward angle loading
Extremely safe solution for extended cruising
Innovative oblong shaped pin optimises the space available in end link of the anchor chain to maximise the load bearing strength
Exclusive slimline hexagon head shackle bolt design with holes for seizing wire
No shackle key required
Sleek snag-free profile for unencumbered launch and retrieval over the bow roller
The Jimmy Green Rigging Team have measured the swivels at their widest point for comparison with your bow roller channel:
| Mantus Swivel | S1 | S2 | S3 |
| --- | --- | --- | --- |
| Diameter at the widest point** | 55mm | 70mm | 85mm |
** The widest point includes the head of the shackle.
Included in the box:

Mantus Marine Specification, Swivel Strength and Chain Compatibility:

| Mantus | Chain | Mantus WLL | Mantus UBS |
| --- | --- | --- | --- |
| S1 | 6mm-8mm | 1339kg | 6696kg |
| S2 | 8mm-10 mm | 1937kg | 9687kg |
| S3 | 12mm-13 mm | 3125kg | 15625kg |
Mantus Definitions:
WLL = Working Load Limit
UBS = Ultimate Breaking Strain
Safety Factor = 5:1
UBS = 5 x WLL
Please note that some Mantus chain packaging may not display the correct breaking strains. Please refer to the Mantus website and the table above for correct breaking strains.
| | Chain | 6-7mm | 8mm | 10mm | 12-13mm |
| --- | --- | --- | --- | --- | --- |
| Mantus Recommend | Grade 40 | S1 | S1 | S2 | S3 |
| Mantus Recommend | Grade 70 | S1 | S2 | S3 | Not available |
Mantus Swivel Assembly Instructions
Chain Size - 12mm
Chain Size - 13mm
Chain Size - 6mm
Chain Size - 8mm
Chain Size - 10mm