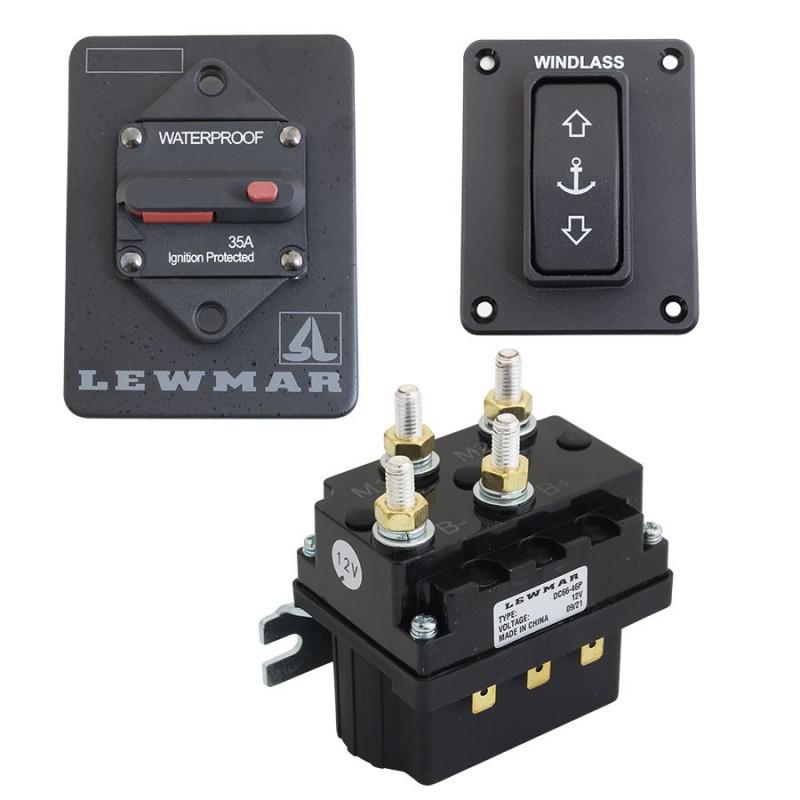 More Information
Features
Accessories
Downloads
The Lewmar V700 combines good looks with Lewmar renowned durability.
The deck unit is a sleek, low profile, flush-mount design in a 100% marine grade stainless steel casing that protects the motor below deck.
The V700 incorporates push-button technology, impact protected motor/gearbox casing and a unique anchor lock, all at an affordable price.
The V700 has a gypsy which conveniently runs successfully with any one of these chain calibrations: 6mm DIN766, 1/4" G4 or BBB, 7mm DIN766.
Lewmar V700 Features and Plus Factors:
100% 316 stainless steel deck unit
Minimal parts for enhanced reliability and simple maintenance
IP67 rated impact-resistant motor housing
Dual Chain Gypsy, number 603
Fall safe anchor lock - prevents accidental deployment when under way
Fast line speed
Manual recovery
Lewmar 5-year warranty
Included in the box:
V700 Deck Unit
Motor/gearbox
Contactor (control box)
Circuit Breaker
Rocker Switch
N.B. contactor may also be referred to as a relay, solenoid or control box.
Lewmar V700 Chain Calibration:

| Gypsy Number | Chain Calibrations | 3 Strand Rope | 8 Strand Rope (Anchorplait) |
| --- | --- | --- | --- |
| 603 | Dual 6mm DIN766, 1/4" G4 or BBB, 7mm DIN766 | 12-14mm | 12-14mm |
Lewmar V700 Specification:

| Motor | Maximum Pull | Working Load Limit | Maximum Line Speed | Normal Current Draw | Circuit Breaker | Approximate Weight |
| --- | --- | --- | --- | --- | --- | --- |
| 320W | 320kg | 79kg | 25 metres/minute | 45 Amps | 35 Amps | 6.5kg |
Lewmar Recommended Windlass Maintenance
Regular Servicing
Wash down the windlass using fresh water.
Examine all electrical connections for corrosion, clean and lightly grease.
Check anchor locker drain to avoid water damage to motor/gearbox.
If anchor locker fills with water, check motor is dry and free of rust.
Check anchor rode splice for wear.
Check gypsy as it is a high wear item and will last longer if properly used. When re-assembling the cone and gypsy, add a small smear of grease to the contact surfaces.
Check mounting studs after first two or three recoveries and regularly thereafter.
Annual Servicing
Check electric cables for damage. Repair/renew as required.
Strip the above deck components, clean and lightly grease.
Check motor/gearbox for corrosion, clean and repaint with a suitable marine grade oil-based enamel paint.
Remove electric motor cover and blow dust away from brushes using foot pump or similar taking care not to breathe any dust.
Chain Size - 6mm
Chain Size - 7mm
Boat Length (Windlasses) - up to 25 feet
Boat Length (Windlasses) - up to 30 feet
Horizontal or Vertical - Vertical