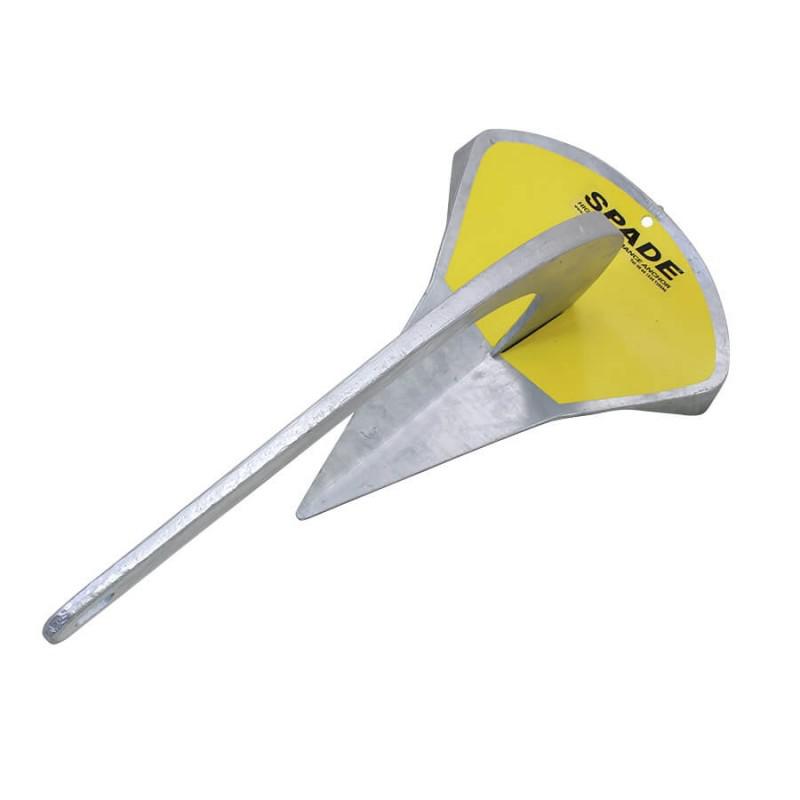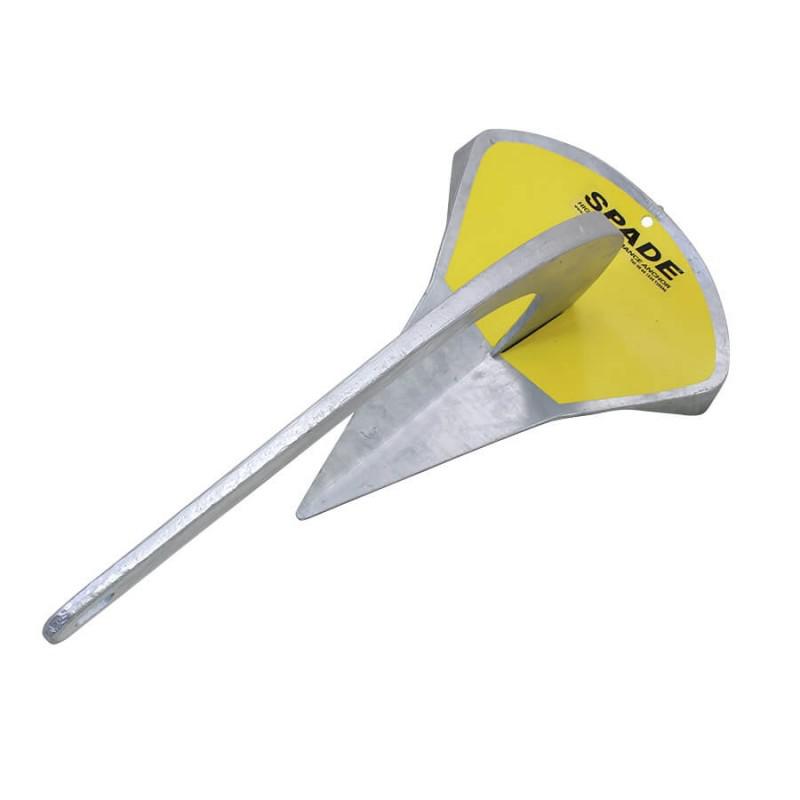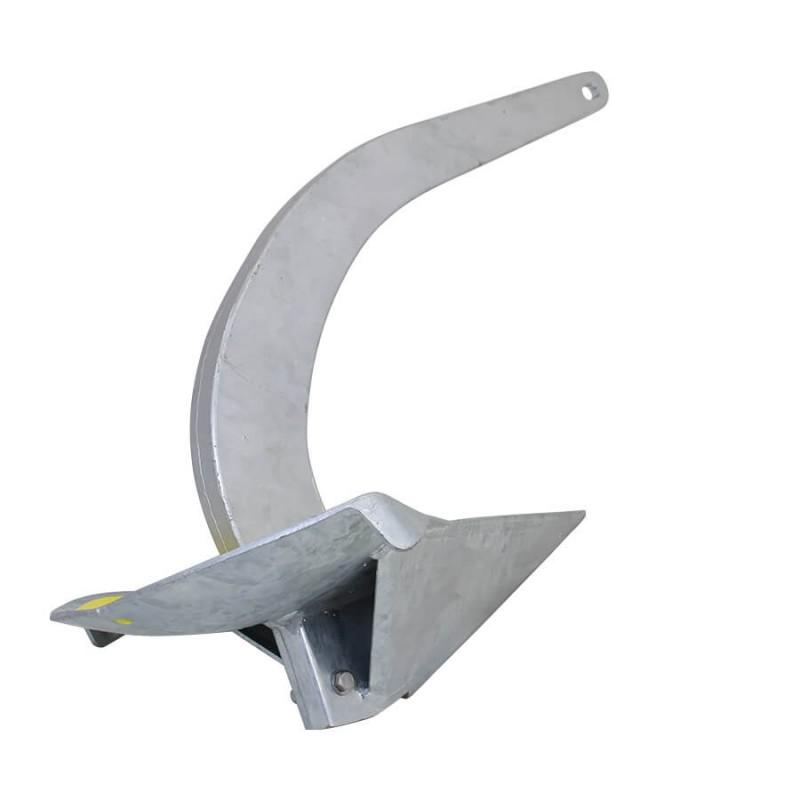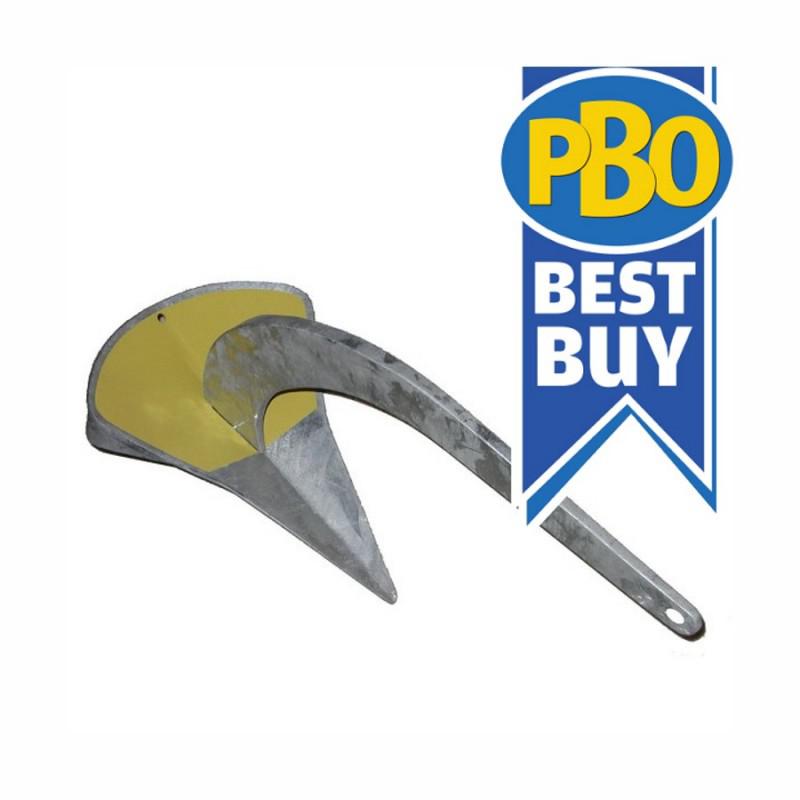 Spade Anchor - Galvanised
BLU-S40-6kg
S Series Galvanised
Designed by Alain Poiraud
High Holding Power Concave Flukes
Dismantles for stowage
Sizes S40 to S160 are available from stock
S180 and S200 are available with a lead time from the manufacturer.
Spade claims that they manufacture the world's most reliable anchor
More Information
Features
Accessories
Jimmy Green Marine is the main Spade anchor retailer, distributor and stockist on the UK Mainland, with all sizes of the S Series Galvanised Spade Anchor from size S40 to S160 in stock on our premises in Beer:
Spade S Series

| | | | | | | | | | |
| --- | --- | --- | --- | --- | --- | --- | --- | --- | --- |
| Model / Size | S40 | S60 | S80 | S100 | S120 | S140 | S160 | S180 | S200 |
| Weight | 6kg | 9.5kg | 15kg | 20kg | 25kg | 30kg | 35kg | 45kg | 55kg |
Spade Anchor Facts, Features, Plus Factors and Unique Selling Properties:
The Spade design features a unique triangular ballast chamber filled with lead which ensures that the anchor will land at the optimum angle for penetration every time (a similar angle to a chisel being used in wood) and, just as importantly, locates 50% of the total weight directly over the penetrating tip, maximising the Spade's ability to dig into the most impenetrable sea beds, e.g. Mediterranean seagrass, thick weed and kelp.
Spade stowage - the Spade is designed to be dismantled with ease for convenient storage until required for deployment
Spade digs in - beginning the second it lands on the seabed, assisted by the Spade's optimum angle and weight distribution.
Spade holds - by presenting its full surface area towards the direction of the load - the larger the surface area, the greater the holding power. Any load sufficient enough to move the anchor will cause it to bury further. Whereas a convex* blade can pull out with a sudden wind or tide shift, the SPADE's concave blade will remain buried. A concave blade acts like a parachute under the seabed and continues to remain buried and offer maximum resistance even when the load is so great that it begins to move. The SPADE will not pull out during wind or tide shifts. Instead, it chisels its way around to the new direction.
Spade keeps on holding - built to withstand enormous loads so that it keeps holding long after other anchors have dragged.
Box Section Shank - On the size S80 and above, the shanks are fabricated to form a triangular box section to maximise strength without compromising weight distribution.
Optimum Performance - Spade anchors are built for optimum performance rather than down to a price and come with a six-month manufacturer satisfaction warranty.
The Spade video illustrates that:
A Spade digs in immediately
A Spade will turn during wind and tide shifts without pulling free
A spade will always land at the optimum angle for penetration, but should it somehow land upside down, it will flip over instantly.
The Spade's unique design will penetrate even when clogged with mud or sand.
A Spade can be dismantled for convenient stowage - the two pieces are held together by one NON-load-bearing bolt.
The Spade Seven Point Safety Criteria:
The anchor must dig in fast.
The anchor must bury deep.
The anchor must give the maximum holding power without dragging.
The anchor must offer constant resistance to movement – even if it eventually moves under extreme load.
The anchor must hold despite wind or current shifts.
The anchor rode must not be able to snag the anchor.
The anchor must be strong enough to withstand very high loads.
Spade Technical Information on how the Safety Criteria are achieved
Spade anchors deliver on all Seven safety criteria, and in addition, Spade Anchors offer these extra benefits:
Spade does not require a special mooring line or anchoring technique.
Spade can be used with a low rode length to depth ratio
Spades are painted bright yellow so you can visually check how well they are dug in
Spades are self-launching and self-retrieving.
Spades fit snugly on most bow rollers, presenting a rounded forward surface
Spades can be easily dismantled into shank and body for storage or transport
March 2023 Spade Update - The manufacturer has updated their sizing recommendation chart:
Spade size relates to Surface Area, e.g. S40 = 400 square centimetres.
This is the original Spade Dimensions Chart and Size Chart:
Galvanised S Series Sizing and Dimensions Chart

| Size / Weight | A/B/C/D/E/F/G (mm) | Monohull Length | Monohull Displacement | Multihull Length | Multihull Displacement |
| --- | --- | --- | --- | --- | --- |
| S40 = 6kg | 578 / 228 / 242 / 264 / 435 / 270 / 6 | <6.5m | <1T | N/A | N/A |
| S60 = 10kg | 687 / 287 / 295 / 315 / 518 / 335 / 6 | <7.5m | <2T | <6.5m | <1T |
| S80 = 15kg | 785 / 324 / 325 / 345 / 589 / 346 / 8 | <10.5m | <6.5T | <7.5m | <2T |
| S100 = 20kg | 892 / 365 / 380 / 392 / 670 / 393 / 8 | <16m | <12T | <10.5m | <4.5T |
| S120 = 25kg | 953 / 393 / 411 / 418 / 715 / 420 / 8 | <18m | <16T | <16m | <12T |
| S140 = 30kg | 1053 / 415 / 445 / 462 / 464 / 12 | <20m | <20T | <18m | <16T |
| S160 = 37kg | 1080 / 450 / 470 / 510 / 810 / 460 / 12 | <22m | <23T | <20m | <20T |
| S180 = 44kg | 1130 / 470 / 490 / 540 / 880 / 495 / 12 | <25m | <27T | <22m | <23T |
| S200 = 55kg | 1200 / 505 / 545 / 532 / 910 / 530 / 12 | <27m | <30T | <25m | <27T |
Finish - Galvanised
Anchor Weight kg - 25.0kg
Anchor Weight kg - 30.0kg
Anchor Weight kg - 44.0kg
Anchor Weight kg - 55.0kg
Anchor Weight kg - 6.0kg
Anchor Weight kg - 10.0kg
Anchor Weight kg - 15.0kg
Anchor Weight kg - 20.0kg