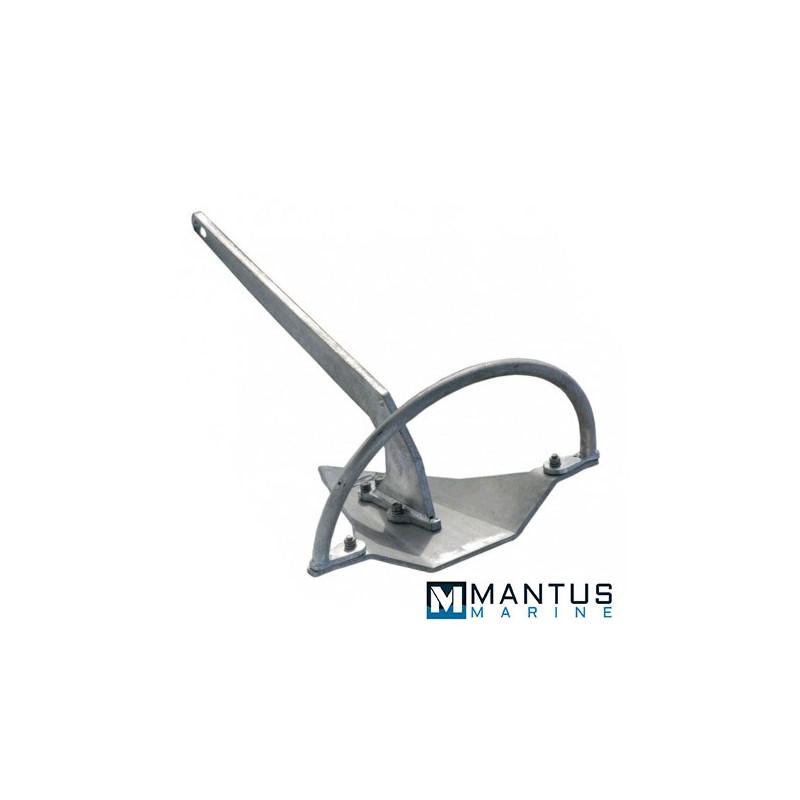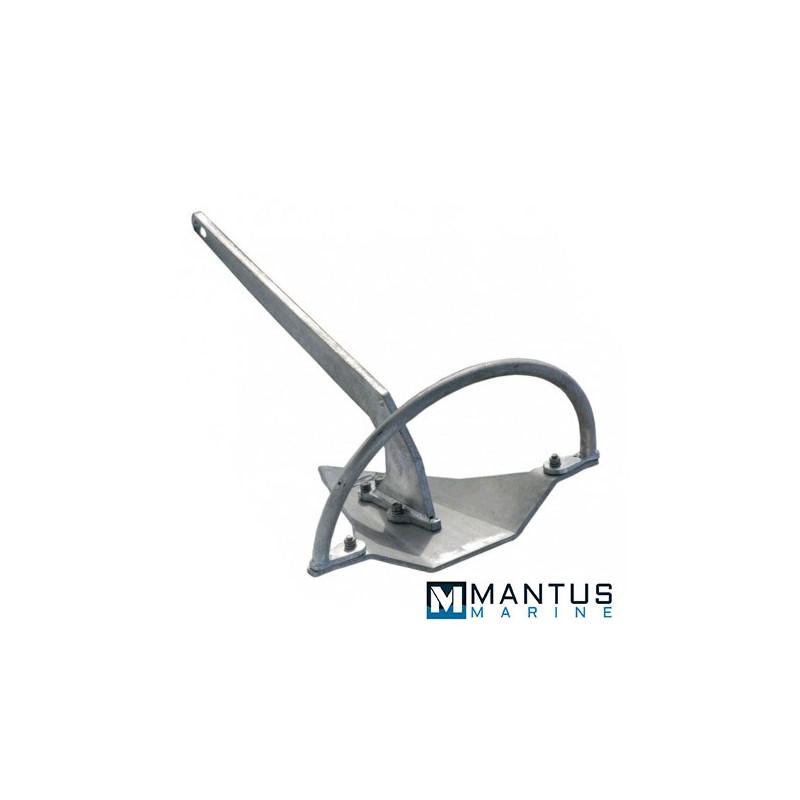 More Information
Features
Accessories
Mantus Marine USA anchors are world renowned for their outstanding setting and holding properties
Digs like no other anchor
Mantus Anchors are designed to penetrate dense grassy bottoms and set with unparalleled holding power.
When tested, Mantus Anchors set faster and deeper than any other tested anchor, including Rocna, Manson Supreme, Bulwagga, Fortress, Bruce, CQR and Danforth anchors.
Easy to stow
Mantus Anchors break down for tidy storage, so you can stow one or two as spares without taking up much needed locker space.
Strong Design and Manufacture
Mantus Anchor Features:
Formed from high quality steel plate
No cast parts
Shank and shank boot are welded from both the top and the bottom
Shank and roll bar are bolted to the fluke
ASTM certified steel bolts are oversized with a large safety margin
Although the shank is attached to the fluke with 4 bolts, a single bolt would have sufficient strength to handle the maximum expected load on the anchor
Every part of the anchor is hot-dipped galvanised for corrosion protection
The shank is produced from HT/ASTM 514 high quality steel and the flukes are from the mild steel A36 equivalent
Sharp-headed precision machined nose - formed into the perfect chisel shape to achieve maximum penetrating power
Small holes (flush with the roll bar) are to vent air in the galvanisation process to promote even coverage
Mantus Marine offer a Lifetime Warranty on all anchor parts and a 3 year warranty on the galvanising.
Mantus Marine Anchor Size Guide
Mantus publish a comprehensive Anchor Sizing Guide based on extensive testing and feedback, see below.
The size chart is based on sustained high winds and poor holding conditions (low viscosity sea bed) for a cruising yacht spending most of her time at anchor
N.B. Comparing surface area can be a good judge for potential holding capability.
Mantus anchor sizing recommendations are presented in the table, divided into three categories:
Lunch Anchor - recommended for lighter use with expected winds under 30 knots
Working Anchor - recommended for winds up to 50 knots
Storm Anchor - recommended for winds above 50 knots
Mantus believe in making their recommendations assuming the worst case scenario.
The result may seem conservative compared with other manufacturers but they believe it is more realistic.
Mantus Anchor Assembly Instructions
Mantus Anchor Dimensions in mm:

| Size | A | B | C | D | E | F |
| --- | --- | --- | --- | --- | --- | --- |
| 8lb / 3.6kg | 305 | 386 | 331 | 472 | 166 | 196 |
| 13lb / 5.9kg | 371 | 470 | 403 | 576 | 203 | 239 |
| 17lb / 7.7kg | 410 | 519 | 445 | 636 | 224 | 264 |
| 25lb / 11.4kg | 443 | 562 | 482 | 687 | 242 | 285 |
| 35lb / 15.9kg | 493 | 625 | 536 | 765 | 269 | 318 |
| 45lb / 20.5kg | 554 | 702 | 602 | 859 | 303 | 357 |
| 55lb / 25kg | 592 | 751 | 644 | 919 | 324 | 382 |
| 65lb / 29.5kg | 631 | 800 | 686 | 979 | 345 | 407 |
| 85lb / 38.6kg | 670 | 850 | 729 | 1039 | 366 | 432 |
| 105lb / 47.7kg | 725 | 920 | 789 | 1125 | 396 | 467 |
| 125lb / 56.8kg | 781 | 990 | 849 | 1211 | 427 | 503 |
| 155lb / 70.5kg | 886 | 1123 | 963 | 1374 | 484 | 571 |
| 175lb / 79.5kg | 947 | 1201 | 1030 | 1469 | 517 | 610 |
Finish - Galvanised
Anchor Weight kg - 3.6kg
Anchor Weight kg - 7.7kg
Anchor Weight kg - 11.4kg
Anchor Weight kg - 15.9kg
Anchor Weight kg - 20.5kg
Anchor Weight kg - 25.0kg
Anchor Weight kg - 29.5kg
Anchor Weight kg - 38.6kg
Anchor Weight kg - 47.7kg
Anchor Weight kg - 55.0kg
Anchor Weight kg - 56.8kg
Anchor Weight kg - 70.0kg
Anchor Weight kg - 78.0kg